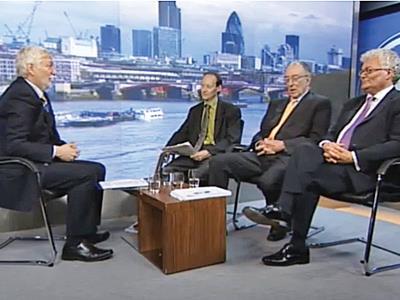 RAILWAY GAZETTE TV: The importance of good design and installation of trackwork to improve long-term resilience and maintainability was emphasised by all three speakers during the Railway Gazette TV interactive debate on 'Maintaining the Modern Railway', which was sponsored by Plasser & Theurer and streamed live from the London Stock Exchange on June 19.
Joining Editor-in-Chief Chris Jackson for the discussion were Dr Michael Walter, Head of the Systems Integration Technology Centre at ÖBB Infrastruktur AG, railway civil engineering consultant Richard Spoors and Swietelsky Rail Director Craig Goldie.
The panel addressed a range of issues, including the need to make infrastructure more resilient to support intensive operations and minimise the time needed for maintenance work, freeing up capacity to run more trains.
The speakers emphasised the need for good design, with Spoors pointing out the importance of formation, subgrade and drainage. 'Correct maintenance must follow on from correct design and procurement; only then do you maximise whole-life costs', said Goldie, adding that 'you can design maintainability into a new-build railway today in a way you couldn't previously.'
Although there are trends towards greater automation of inspection and maintenance, Spoors believed that there were 'huge steps still to be taken to eliminate manual inspection of main line railways'. Walter emphasised that 'knowledge transfer to younger generations of infrastructure engineers is essential'.