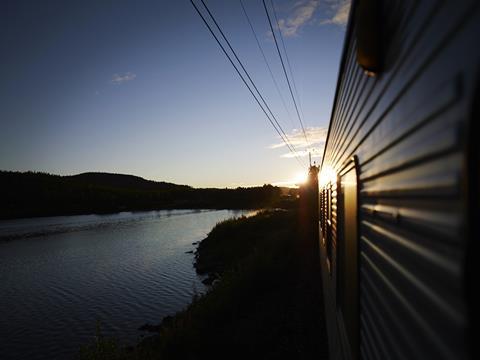 SWEDEN: Overnight trains connecting Sweden with several international European destinations are to be introduced as part of government proposals to facilitate environmentally-friendly transport.
Infrastructure Minister Tomas Eneroth announced on March 31 that the Social Democratic, Centre and Green parties had reached agreement to include a SKr50m framework grant in the spring budget package to be presented on April 10. This will provide support for the procurement and operation of international rail services, as well as funding the related legal, financial and administrative expenses.
'The goal is to provide night trains to several European cities', Eneroth explained, adding that it was 'still too early' to say which cities would be served, as Trafikverket had been asked to investigate the options. 'The investment in night trains, together with the fact that we are now making the largest rail investment in modern times, will drive the transformation of the transport sector. We are doing this to tackle climate change, build a strong society and to achieve our goal of becoming the world's first fossil-free state'.
'More and more people want to be able to travel climate-smart, both on holiday and for work', added Deputy Finance Minister Per Bolund. 'Now it is up to us politicians to make the train an obvious alternative to choose for travel in Europe.'
At present, the government supports domestic overnight trains connecting Stockholm and Göteborg with Boden, Luleå and Kiruna in northern Sweden, as well as Narvik; these are currently being operated by SJ under a tendered contract. Transdev subsidiary Snälltåget runs the overnight trains from Stockholm to Östersund and Storlien, as well as its own thrice-weekly service between Malmö and Berlin in the summer.