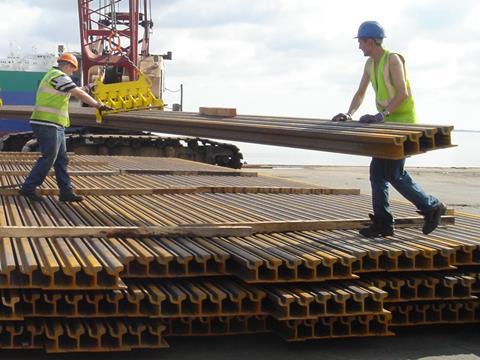 Australia: ARTC has awarded the technical and engineering advisory services contract for the Inland Rail project to a joint venture of SMEC and Arup. Six contracts for environmental surveys and engineering design have been awarded to GHD, Parsons Brinckerhoff, Aecom, Arup and Jacobs.
Brazil: CPTM has awarded Pöyry a contract to provide engineering services for the São Paulo metro Line 4 extension.
China: China Railway Construction Corp is to build the 39 km IT Avenue tram line in Chengdu under a 3·7bn yuan contract running to April 2018.
Croatia: Following the rejection of appeals, on April 29 a €165m contract for modernisation and doubling of the 38·2 km Dugo Selo - Krizevci section of the route from Zagreb to the Hungarian border by late 2019 was signed by HŽ Infrastruktura and a consortium of DIV, Dalekovod and Zagreb Montaza. The EU is to cover 85% of the cost.
France: RATP has ordered an electro-diesel track geometry car from MerMec for use on the Paris metro.
Germany: Royal BAM Group subsidiary Wayss & Freytag Ingenieurbau is to build a 2 km cut-and-cover tunnel for a new Frankfurt S-Bahn route to Gateway Gardens. SPL Powerlines is to supply electrification.
Mainz tram operator MVG has awarded Zweiweg a €568220 contract to supply a metre-gauge overhead line installation vehicle with a telescopic platform.
Malaysia: Mass Rapid Transit Corp has awarded four contracts for the Klang Valley MRT Line 2. The 1·62bn ringgit package SY203 covering 58 four-car driverless trainsets and depot equipment was won by the HAP consortium of Hyundai Rotem, Posco Engineering and Apex Communications. The 458m ringgit signalling package SY201 was awarded to a consortium of Bombardier and Global Rail, the 1·47bn ringgit package V203 covering 4·6 km of viaduct was awarded to IJM Construction, and Malaysian Resources Corp won the 648m ringgit package V210 covering 2·6 km of viaduct. TSR Bina has been awarded a 90m ringgit contract for earthworks for the Serdange depot.
Netherlands: ProRail has awarded VolkerRail a performance-based infrastructure maintenance contract covering existing lines around Rotterdam and northern Nord Holland from October 1 2016 until September 30 2026.
Poland: ZPS Stargard has supplied a DP-560.00 infrastructure diagnostic vehicle to PKP PLK for 28·4m złoty.
ZUE's 28·4m zloty offer was the lowest bid to modernise the Bieru - Mysowice Brzezinka section of the Owicim - Katowice line.
Torkol is to renew track at PGNiG's Siekierki power station, PKP IC's Warszawa Grochów depot and Koleje Mazowiekcie's Tuszcz, Warszawa Grochów and Warszawa Ochota depots.
Qatar: Qatar Rail has appointed Consolidated Contractors SAL to Construct the Doha metro's Msheireb and Education City stations, replacing a joint venture of Samsung, OHL and QBC.
Singapore: LTA has awarded Woh Hup a S$146m contract to build Amber station in the Thomson-East Coast Line, and China Jingye Engineering Corp a S$188m contract to build Bedok South station.
Spain: ADIF has awarded a joint venture of Comsa, Ferrovial Agromán, Tecsa and Vías y Construcciones two 48-month contracts totalling €627m to maintain track and infrastructure on the high speed line from Madrid to Valencia and Alacant. The lots cover work in Castilla-La Mancha from maintenance bases at Villarrubia de Santiago and Gabaldón, as well as the Valencia region from Requena and Monforte del Cid.
ADIF has awarded Siemens Rail Automation a 24-month contract worth €149m to maintain signalling and traffic control systems on the Puigverd de Lleida - Figueres section of the high speed line between Madrid and the French border. This includes equipment for ETCS levels 1 and 2 as well as hotbox detectors and power supply cables.
Sweden: Trafikverket has awarded Strukton Rail a five-year contract for track maintenance on the 11·5 track-km Citybanan tunnel in Stockholm from September 1 2016, ahead of the opening of the line in 2017, and also a contract covering 200 track-km on the existing route through the capital for five years from May 1 2017.
UK: Network Rail has awarded Alstom a £79m contract for the final stage of resignalling the London Paddington - Reading section of the Great Western Main Line. Amey has been awarded a separate £11m contract to provide a 'resilient' power supply system for signalling equipment between Paddington and Hayes & Harlington which will be able to automatically switch between separate supplies in the event of a power failure.
USA: New York commuter operator MTA Metro-North is to order a track inspection vehicle from Ensco for entry into service in early 2018.
Wabtec has won a $21m contract to provide PTC for the Terminal Railroad Association of St Louis by 2018, including equipment for 17 locomotives.