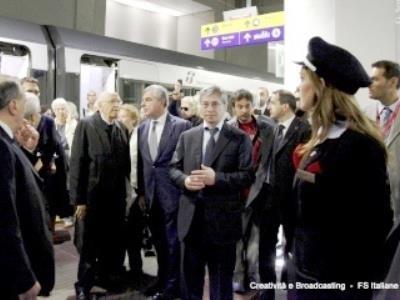 ITALY: President Giorgio Napolitano and his wife Clio were amongst the first passengers to use the underground high speed line station at Bologna Centrale, which opened for revenue service on June 9.
Accompanied by FS Chief Executive Mauro Moretti, who had unveiled the station to local dignitaries the previous day, the couple travelled from Roma to Bologna on board a Milano-bound Frecciarossa high speed train. Following his arrival, the President toured the new station platforms and concourse area.
The low-level station is served by the Passante high speed bypass, which tunnels under the main station to connect the Milano – Bologna and Bologna – Firenze sections of RFI's Altà Velocità network. Through trains have been using the link since June 22 2012, but high speed trains calling at Bologna have had to use the existing station pending completion of the underground platforms. Opening of the low-level station is expected to free up capacity on the surface for enhancements to regional passenger services, including a new intermediate station at Bologna Mazzini which was opened at the same time.
Developed for RFI by Italferr, the three-level underground station provides four platforms, located in a box 640 m long, 56 m wide and 23 m deep. A sub-surface road level provides access to an underground parking area, and passenger drop-off facilities will be provided in a later phase. Together with the reinstatement of four surface tracks removed to facilitiate construction, the project is due to be completed by 2016.
June 9 also saw the opening of the new Mediopadana station at Mancasale, 4 km north of Reggio Emilia. Designed by Santiago Calatrava and built at a cost of €79m, the station was inaugurated on June 8 by local dignitaries including Transport Minister Maurizio Lupi, the President of Emilia Romagna region Vasco Errani and former European Commission president Romano Prodi.
Offering journey times of around 20 min to Bologna and 40 min to Milano, Mediopadana is initially served by eight Trenitalia and three NTV trains in each direction per day. These offer direct links to Torino, Milano, Roma, Napoli and Ancona, with additional services to be introduced from the December 15 timetable change. A low-level platform still under construction will provide interchange between the high speed network and local trains on Ferrovie Emilia Romagna's Reggio Emilia – Guastella – Suzzara line.