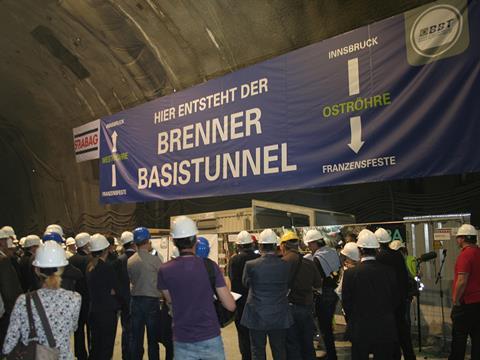 AUSTRIA: Visiting the construction face for the Brenner Base Tunnel near Innsbruck at the start of June, Transport Minister for the Land of Bayern Joachim Herrmann announced that he would commit to the improvement of approach routes through southern Germany.
Herrmann was accompanied by a number of senior figures from southern Germany, the Austrian Land of Tirol and South Tirol in northern Italy. The visitors noted that good progress was being made with construction; the 55 km base tunnel is expected to be completed by 2026 within the budget of €8·6bn at 2012 prices.
To date around 22% of the 230 km of tunnel bores has been completed. Finance for the base tunnel is also secure, with Austria and Italy each contributing 30% of the cost and the European Union the remaining 40%. The rate of progress is now focusing attention on southern Germany and Italy under pressure, as failure to improve the approach routes would jeopardise the success of the project.
Herrmann's commitment will be tested over the coming months as the planned addition of two tracks from München to Kufstein on the Austrian border, either parallel to the existing main line or on a nearby alignment, has already stirred up fierce opposition. Planners hope to reach a consensus on a viable and acceptable route within three years, although planning and construction are expected to take at least another 20 years.