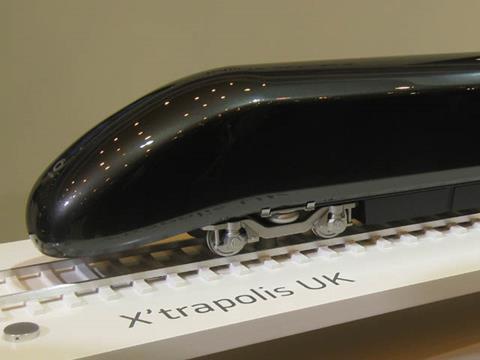 UK: Alstom Transport revealed outline details of the X'trapolis UK electric multiple-unit design it is proposing for the British market at the Railtex exhibition in London.
Having effectively been out of the UK regional train building market for almost a decade, Alstom feels the demand for around 1 200 vehicles under the Thameslink Programme plus potential orders for Crossrail and the replacement of existing suburban EMUs is sufficient to justify the costs of developing a new platform to compete with Bombardier's Electrostar and Siemens' Desiro families.
'10 years ago we had Juniper, but Juniper does not meet the requirements going forward' said Piers Wood, Project Director at Alstom. While Alstom 'has been quiet on the new build front, we have learned a lot about maintaining trains.'
The X'trapolis UK concept is part of Alstom's X'trapolis product family of trains for longer distances but not high speeds. However the tight UK loading gauges, high platforms and other technical requirements mean that none of the current Alstom rolling stock platforms are suitable for easy adaptation to the British market. 'Every market has its peculiarities, but the UK is arguably the most complex', said Wood.
The design is being influenced by experience with X'trapolis trains in Chile, Spain and Australia. A key feature of the proposal is 'bogie offset articulation', with bogies under the end of one vehicle, rather than common to two cars as with conventional articulated stock.
According to Alstom, the combination of axle spacing and bogie configuration means that on curves the outward 'end throw' offsets the inward 'centre throw'. This allows a wider body and more floor space than conventional articulation, while retaining the advantages of a reduction in the number of bogies, and thus train weight, noise and maintenance costs.
Articulation will also remove the need for extensive crumple zones at vehicles ends, thus offering further potentially increases in capacity.