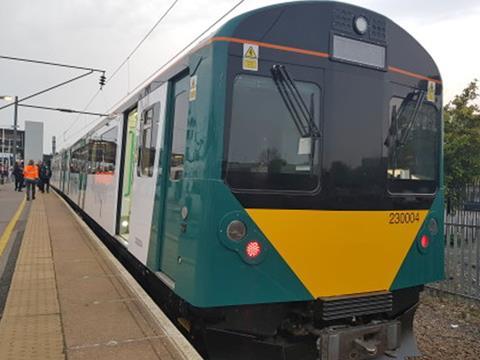 VIVARAIL: Class 150 and 153 diesel multiple-units have been withdrawn from West Midlands Trains services on the UK's Marston Vale Line, with all services now operated using Class 230 DMUs supplied by Vivarail.
The first Class 230 unit entered service between Bletchley and Bedford last month. Vivarail has developed the vehicle using the bodies and bogies of withdrawn London Underground trainsets.
Vivarail is also developing a diesel-battery hybrid version for Transport for Wales, and it expects to deliver the first unit in July. Valence is supplying the lithium-ion batteries.
Earlier this month Vivarail announced a collaboration agreement with Arcola Energy for the development of a multiple-unit able to operate on either hydrogen or battery power. The companies hope to begin proof-of-concept testing at Vivarail's manufacturing facility in late 2019 or early 2020.