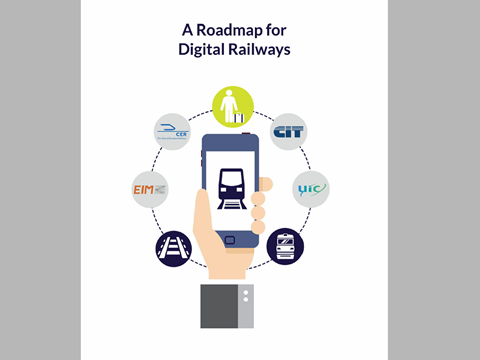 EUROPE: Rail industry associations CER, CIT, EIM and UIC presented a joint roadmap for digital railways on April 26, saying the aim was to 'promote the proper use of digital technology, which is essential to enhancing rail's performance and increasing its attractiveness for customers.'
The roadmap aims to strengthen co-operation within the rail sector and with third parties, and calls for support from EU institutions. EIM Executive Director Monika Heiming said digitalisation would 'drive the railway's agenda' in the coming years, and 'the challenge will be to develop collaboratively joint visions for the future versus silo thinking in the past.'
The five objectives of the roadmap are:
connected railways with high-availability data connections for systems including GSM-R and ETCS, as well as customer services such as passenger information and ticketing;
customer experience, offering better and added value for passengers, including onboard internet access;
increased capacity through the use of internet of things concepts as well as sensors, artificial intelligence and automation to enhance reliability, efficiency and performance;
competitive railways making the most of standardised and shared data;
European leverage creating the necessary policy framework to foster innovation by identifying and tackling the legal obstacles created by current regulatory frameworks.
UIC Director-General Jean-Pierre Loubinoux said the main challenge was to identify the technologies and fields where the industry's joint efforts should be focused.
According to CER Executive Director Libor Lochman, the railway industry is 'committed to working together and with other sectors in order to make the most of the opportunities offered by the digital transformation'. It 'is essential that European institutions complement these initiatives by creating the corresponding policy environment', he added.