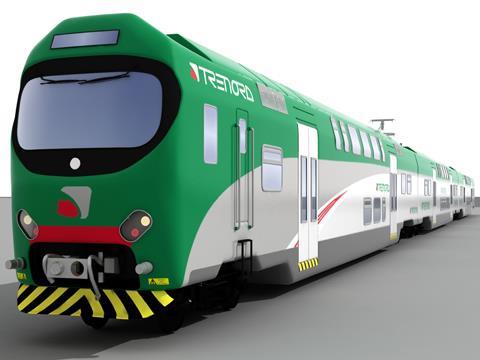 ITALY: The Trenitalia-LeNord joint venture created to run regional passenger services in Lombardia was officially branded as Trenord on April 29, marking the end of the 'experimental' phase which has seen the Lombardia division of national passenger operator Trenitalia merged with the LeNord services of long-established regional operator FNM.
The joint venture was formed in August 2009 to bring services under regional rather than national-level control, combining the solid financial base and local focus of FNM with the technical expertise of Trenitalia. The Lombardia regional government buys services from Trenord under a contract which sets out targets for better performance and upgrades to improve the journey experience.
Trenord says it has one of the busiest regional networks in Europe, serving an economically important and densely populated area which has a quarter of the national rail traffic. Its 2 200 daily services carry 650 000 passengers on more than 50 routes, including the Malpensa Express airport service. Revenue of €613m was recorded in 2010, of which €208m was traffic revenue, generating a profit of €21·7m which will be reinvested in services.
At the Trenord launch on April 29, CEO Giuseppe Biesuz announced a 'fully self-financing investment plan' which will see tenders called shortly for rolling stock worth €250m. A total of 107 trainsets and 16 locomotives were purchased for the region in 2001-11, and 'by the end of 2015, over two-thirds of our fleet will be made of trains with an average age of less than 10 years, in line with the best international standards', Biesuz said.
Trenord 'is going to be an example of how to build efficient partnerships with local bodies and functional agreements with licensed regional railway enterprises', according to Trenitalia CEO and Trenord President Vincenzo Soprano, while FS Group CEO Mauro Moretti believes Trenord is 'the right way to deliver the best possible offer to the great metropolitan areas'.