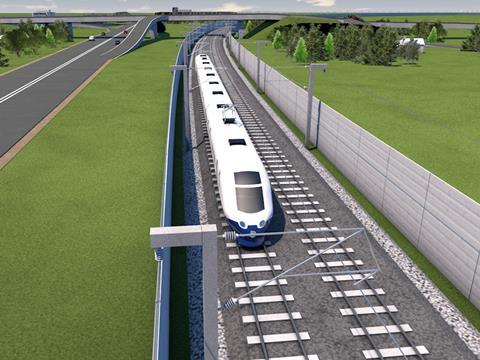 EUROPE: Baiba A Rubesa resigned as CEO & Chairman of the Management Board of Rail Baltica project promoter RB Rail AS with immediate effect on September 27, and then held a press conference in a personal capacity during which she strongly condemned the 'different and irreconcilable' national and political visions for implementation of the international rail link.
She expressed 'profound concern' that the project 'is at serious risk of not being properly implemented' owing to the behaviour of the supervisory board and the three governments, which she said were reverting to national interests and 'playing poker' with the project even though it would 'be good for each national economy'.
The RB Rail joint venture was formed by Estonia, Latvia and Lithuania to implement the planned 1 435 mm gauge railway from the Polish-Lithuanian border to Tallinn. Rubesa was appoined for a three-year term which was due to expire on October 28. She said she had intended to resign earlier this year when the three countries were failing to take decisions, but was asked to stay on by the Latvian Prime Minister.
Following her resignation, Rubesa said 'the current organisation model of the project in which I am forced to operate is blatantly contrary the principles of good corporate governance', with conflicts of interests 'encapsulated in the very roots of the project'.
She said RB Rail was not robust enough, because the supervisory board and three countries had failed to agree to sustainable financing and conflict-free governance.
She said Latvia had failed to take necessary decisions, while Lithuania had appointed national railway LG as RB Rail shareholder instead of a government ministry, creating conflicts of interest as it is also involved in implementation. She said Estonia had changed its view towards the joint venture following a change of government, now seeing Rail Baltica as a construction project rather than a economic development corridor, and 'it remains to be seen in whose national interest such a change in position may be'.
Rubesa has submitted four recommendations to the European Commission, European Parliament and ministers, which she believes could also apply to other cross-border projects.
There is a need for a tangible role for the EU, which is meeting 85% of the cost. To ensure its expectations are met the EU should be involved in implementation, appointing a board member or observer with veto rights.
There should be a professional and conflict-free supervisory board. Organisations should not be both national implementation bodies and shareholders, as the resulting circular supervisory structure is 'probably the saddest example of mismanagement in the history of public sector governance'.
Multi-year, predictable and sustainable financing is needed; unlike the current situation where the budget for 2019 has still not been approved. The project also needs to be able to attract highly qualified experts, rather than have implementing bodies compete with each other.
Rail Baltica is not only a transport or economic project, it is political and security one. This requires political leadership at prime ministerial level to ensure engagement from ministries covering the economy, finance, defence and foreign affairs.
Rubesa thanked the Management Board and staff of RB Rail for 'commitment above and beyond the call of duty' to meet the terms of Connecting Europe Facility grant agreements totalling €743m, and the European Commission's DG Move for 'sustained and unwavering' support which had ensured the project 'could come as far as it has.'
The RB Rail AS Supervisory Board has appointed Chief Financial Officer and Member of the Management Board Ignas Degutis as Interim CEO.