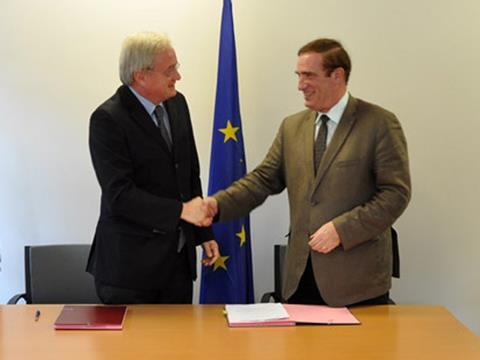 EUROPE: An agreement providing for the future co-ordination of technical documentation covering Telematics Applications for Passengers was signed at the European Railway Agency headquarters in Valenciennes on July 1.
It specifies how ERA and UIC will maintain their respective documents in order to ensure 'continuous synchronisation' between the relevant ERA Technical Documents and UIC Leaflets, and how the common parts should be modified as the technology develops, 'in order to avoid double standards within the EU', according to UIC. The publication dates of future revisions to the documents will be aligned, in order to ensure that they provide 'a single reference to all stakeholders in the railway sector'.
Whilst recognising the 'rail system competence and expertise' within UIC, the agreement also recognises the role of ERA in the change management process. UIC says the existing organisation covering the evolution of the documents will be modified, and 'a dedicated structure of the representative bodies' is being put in place to manage the submission of any change requests to ERA's TAP TSI Change Control Management Working Party.
With the agreement entering force immediately, the two organisations are planning to hold further meetings in September to finalise the details of the new arrangements.