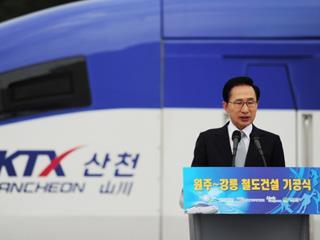 SOUTH KOREA: President Lee Myung-bak attended a ceremony on June 1 to launch construction of a 120·3 km direct line to link Wonju, southeast of Seoul, with the east coast city of Gangneung.
Completion is planned for 2017, with the 3·9tr won cost to be met from public sources. The double-track electrified route is being designed for 250 km/h operation, and will significantly reduce journey times between the capital and Gangneung.
The line will also serve the Pyeongchang region which is hosting the 2018 Olympic Winter Games. The main Olympic station will be 50 min from Seoul, and during the games through services will be operated to and from Incheon International Airport, South Korea's main aviation hub.