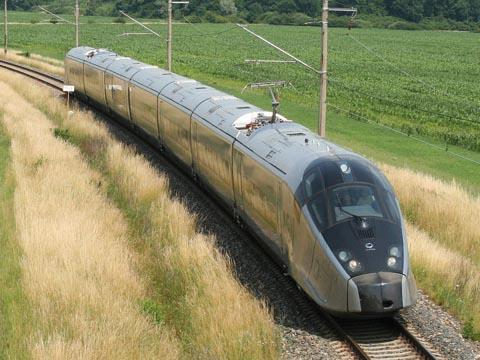 FRANCE: On December 14 Alstom and Eurailtest will complete four weekends of high speed testing of the Pégase AGV demonstrator on LGV Est, one of the few lines where it is possible to reach speeds of 360 km/h.
The AGV has already undergone four months of testing at the Velim circuit in the Czech Republic, but speeds there are limited to 200 km/h. The trials between Champagne-Ardenne and Lorraine are allowing Alstom to see how the train performs in real conditions, and provide data to validate computer modelling of physical phenomena such as the wheel-rail interface and aerodynamic acoustic behaviour which are extremely difficult to assess without testing. Trackside and onboard microphones will monitor noise levels, as Alstom is aiming to make passenger comfort at 360 km/h equivalent to competing trains at 300 km/h.
As AGV is articulated, it is necessary to check the dynamics of the whole trainset as well as individual wheelsets. Onboard aerials are being used to record electromagnetic compatibility, and roof-mounted sensors monitor the effect of the pantograph on the catenary and the extent of electrical arcing. Wheel spin during starting and locking during braking are being monitored and adjusted, and other brake tests including stopping on track made slippery with soapy water to simulate leaves on the line.
The AGV will return to Velim after the tests have been completed. During 2009 Pégase will be sent to Italy to assist in the approval process for the 25 trainsets ordered by NTV for delivery from 2010.