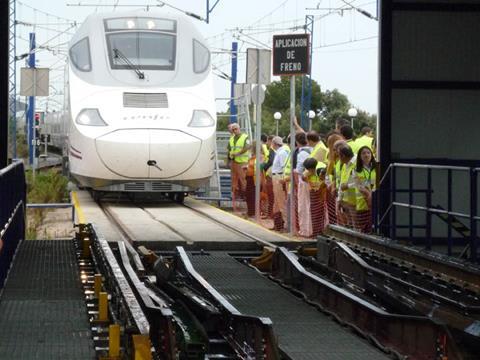 SPAIN: In its first 18 months of full operation, the Madrid - Barcelona high speed line has made significant inroads into market share on what was the country's busiest domestic air corr­idor. But RENFE Operadora believes it needs to do more if rail is to achieve total dominance.
With 300 km/h operation the journey time is 2 h 40 min non-stop, or around 3 h with calls at Zaragoza, Lleida and Camp de Tarragona. Acc­ording to Ignacio de Rebeira Sánchez, Head of Innovation at RENFE's High Speed & Long Distance business, a 2 h 30 min timing is essential; he believes this will be achievable with 320 km/h running, which he considers more realistic than the 350 km/h for which the line was designed.
Whilst the Siemens-built Series 103 and Talgo/Bombardier Series 102 sets are designed for 350 km/h, the gauge-changing trains used for through services off the standard-gauge line are limited to 250 km/h. Speaking at a workshop in Barcelona on June 18-19, organised by the Spanish Railway Foundation to celebrate the 40th anniversary of the start of gauge-changing trains with the Barcelona - Genève Catalan Talgo, Talgo's Director of Research & Development Dr Emilio García announced that higher speed trials will be undertaken later this year. A prototype trainset derived from the Series 130 will be used to verify the performance of the gauge-changing wheelsets at 300 km/h.
These tests are also intended to contribute to another project, which will see the emergence in 2011 of Talgo's next-generation trainset, code-named Avril (Alta Velocidad Rueda Independiente Ligero). Technical details are under wraps until mid-2010, but like the Series 130 Avril will have two driving vehicles on powered bogies and 12 articulated trailers riding on 11 single wheelsets.
To allow train operators to offer fares competitive with low-cost airlines, Avril is intended to provide up to 700 seats in a 200 m single-deck trainset. Moving the traction equipment underfloor will release space in the power cars, and Talgo plans to capitalise on the short 13 m length of the trailers by pushing the width out to 3 200 mm, permitting 3+2 seating in second class.
According to company insiders, Avril is being designed for operation at no less than 380 km/h, with inter-car linkages helping to keep the wide bodies within the loading gauge and possibly providing a small degree of tilt in curves. While the prototype is envisaged as a standard-gauge trainset, it is also seen as a platform for a future gauge-convertible version. Potential customers are reportedly 'very interested'.