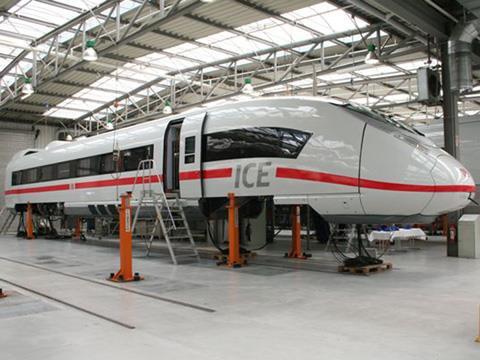 GERMANY: The first of 15 Velaro D fourth-generation ICE trainsets for Deutsche Bahn was formally unveiled at Siemens' Uerdingen plant in Krefeld on April 28 by DB Board Member, Technical, Dr Volker Kefer and the CEO of Siemens Mobility Dr Hans-Jörg Grundmann.
Designated Class 407, the eight-car trainsets are the latest development in the Siemens Velaro family, which is in turn derived from DB's ICE3 trainsets.
Designed for operation at up to 320 km/h, the four-system Velaro D sets are due to enter service from the December 2011 timetable. They will work international services between Germany and southern France via the first phase of LGV Rhin-Rhône, and will also be equipped to operate into Belgium on the Frankfurt – Köln – Brussels corridor.
Each eight-car set will have accommodation for up to 460 seated passengers, including a full restaurant car. The end cars have been extensively redesigned to meet the latest TSI and crashworthiness requirements, and incorporate a fire-proof equipment room behind the cabs in place of the forward-facing lounges in the ICE3. Fire doors are also provided between all cars as standard, potentially making the trains suitable for operation through the Channel Tunnel. Other changes include a higher roof line on the intermediate cars and fewer pantograph recesses as part of an aerodynamic streamlining designed to reduce energy consumption by up to 20%.
The first trainset is due to begin test running at Wildenrath in September, and the formal certification process for operation in Germany, France and Belgium will start in January 2011. The trains may also be certified to run into Switzerland and the Netherlands in future.
Read our exclusive article about the development of the Velaro D by Siemens' Project Director Martin Steuger in the May 2010 issue of Railway Gazette International.