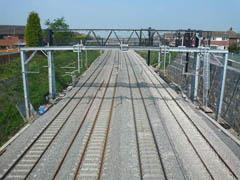 Argentina's Transport Secretary Juan Pablo Schiavi has signed an agreement with Vice-Minister of Commerce Jiang Yaoping that would see Chinese banks provide at least 85% of the funding for a US$18bn programme to electrify the Belgrano Norte and Belgrano Sur commuter networks in Buenos Aires. This would include route modernisation and the supply of 44 six-car EMUs.
The Federal Railroad Administration issued its final Record of Decision for the Orlando - Tampa high speed line on May 7, enabling the Florida Department of Transportation to begin design, land acquisition and construction. The next phase will include the preparation of tenders for a concession to build, operate and maintain the 141 km line.
China's Ministry of Railways has approved plans for a 226 km railway to connect Zhenglanqi on the Jining - Tongliao line with Zhangjiakou on the Beijing - Baotou route. Expected to cost 5·9bn yuan, the line is expected to support the development of coal mining in the eastern part of Inner Mongolia.
Brazilian mining company Vale has produced an environmental impact study for a US$828m project to build 364 km of railway between potash deposits in the south of the Argentinian province of Mendoza and the Neuquén - Bahía Blanca route at Cervantes. The project includes $337m for rolling stock to run 86-wagon trains hauled by pairs of locomotives, carrying 24 million tonnes a year for export via Bahía Blanca.
Jaipur Metro Rail Corp has invited proposals for a financial consultant and transaction advisor to help develop the metro as a PPP project. Initial studies have proposed a 29 km network with north-south and east-west lines.
The governments of France and Spain, as well as the regions of Aquitaine and Aragón, have signed an agreement to finance further studies for reopening the route across the Pyrenees via Canfranc (RG 6.09 p14). RFF will be examining technical and operational issues and socio-economic benefits, while the Spanish partners are funding work by Ineco on safety improvements in the rail tunnel, disused since 1970.
Polish freight operator PKP Cargo says it intends to focus on trainload and intermodal operations, raising tariffs in April to price off wagonload traffic. It will invest 405m złoty in 2010 on expansion of its intermodal terminals and the acquisition of new rolling stock.
Train ferry operator Anship was due to launch a new Black Sea route during May connecting the Russian port of Kavkaz with Samsun in Turkey.
Control of passenger operator Sefecha (RG 3.10 p11) is to pass from Chaco province to the Argentinian federal government and its operating company SOF under an agreement signed on May 5. Investment of 100m pesos is planned over the next four years in rolling stock, track renewals and extending the Sefecha network.