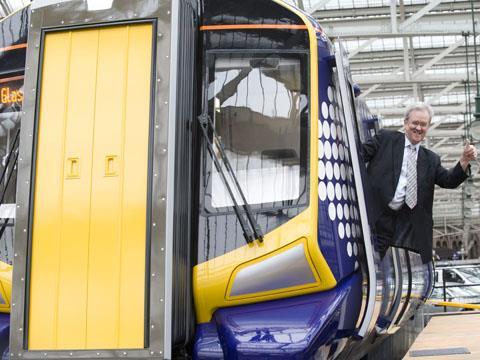 UK: A mock-up of the Class 380 Desiro electric multiple-units being supplied to First ScotRail by Siemens Mobility has gone on display in Glasgow, where it was visited by the Scottish Government's Minister for Transport, Infrastructure & Climate Change Stewart Stevenson on May 6.
The 20 tonne wood and glass fibre replica was built in Germany by Zech & Waibel of Neuss, near to Krefeld where the real trains are being built.
The 25 kV EMUs are due to be introduced from September 2010, offering 'more seats, better accessibility and improved passenger comfort, as well as a number of environmentally friendly features', said Steve Montgomery, Managing Director of operator First ScotRail.
As well as regenerative braking, they will have a low-power sleep mode. The Faiveley air conditioning system will sense if a carriage is empty, thus saving further energy.
The 16 four-car and 22 three-car units are being financed by HSBC in a £200m deal announced in July 2008. They will be leased by First ScotRail for use in Ayrshire, Inverclyde and Renfrewshire, freeing existing stock for redeployment elsewhere.
'We've brought the mock-up to Glasgow Central station so people can see for themselves the many features. We welcome this investment by the Scottish Government which is encouraging people to get out of their cars and onto trains', said Montgomery.