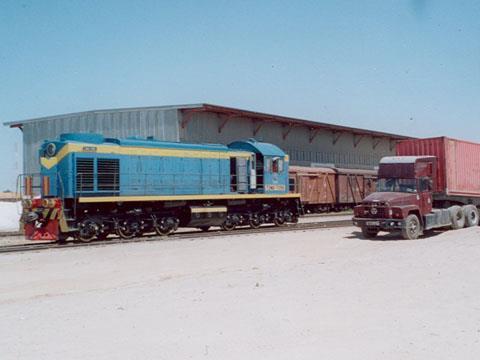 AFGHANISTAN: As work progresses rapidly on Afghanistan's first substantial railway, plans are firming up for a 1000 km standard gauge corridor running across the north of the country. This would give Uzbekistan, Tajikistan and potentially China access to world markets via the Iranian port of Bandar Abbas without requiring transit through other CIS countries.
Minister of Mines Wahidullah Shahrani set out a US$6bn plan for a 2000 km national network at a railway development workshop in Kabul in May. The first phase would start at Sher Khan Bandar on the Tajik border, connect at Naibabad with the 1520 mm gauge line now under construction from Uzbekistan, and continue through Mazar-i-Sharif to Herat, with the possibility of a link to the Turkmemistan Railways line at Towraghondi. A branch would run from Shirbirghan via Andkhvoy to the Aqina border crossing with Turkmenistan.
At Herat the railway will join a line under construction from Iran; civil works are complete on two-thirds of the formation within Iran, but the Afghan section of the route is still awaiting funding.
The minister said the corridor will be built to 1435 mm gauge, designed for 25 tonne axleloads and speeds of 100 to 160 km/h.
A second phase would see a Chinese-backed line built from Mazar-i-Sharif to Kabul, Jalalabad and Torkham, near the Khyber Pass. The long-proposed extension of Pakistan Railways' Chaman line to Kandahar is also planned.