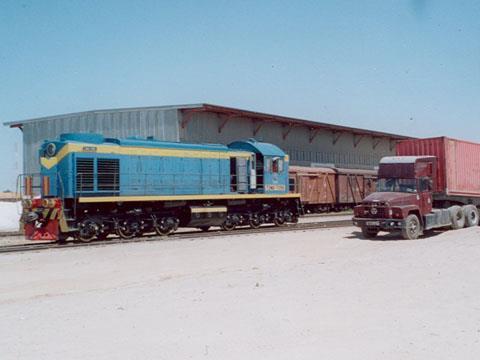 AFGHANISTAN: Construction of a rail link to Mazar-i-Sharif is set to go ahead following Asian Development Bank's announcement of an US$165m grant on September 30.
The Afghan government will provide US$5m towards the US$170m project, which is to be undertaken by Uzbek Railways under the supervision of the Afghan Ministry of Public Works.
Due for completion in June 2011, the 75 km single-track line will connect Mazar-i-Sharif, one of Afghanistan's largest cities, with the existing rail-connected freight terminal at Hayratan on the Afghan side of the Uzbek border. The line will be suitable for carrying double-stack container traffic.
According to ADB, Hayratan is the gateway for almost half of Afghanistan's imports and much humanitarian relief traffic. The existing facilities will be upgraded, and institutional support provided for the development of railway plans.
In an effort to avoid past problems with transport projects including cost overruns and delays the Afghan government is to award Uzbek national railway UTY contracts for design, procurement and construction, and then for operation and maintenance.
ADB said the decision to relax normal procurement procedures is justified because the line will simply be an extension of the current UTY line from Termez in Uzbekistan to Hayratan. It will not require investment in rolling stock, there are no comparable companies in the region capable of undertaking work based on Uzbek standards. UTY already has proprietary preliminary designs, which should save time and cost.
ADB believes that Afghanistan has the potential to play a key role as a freight transit route, but volumes are heavily constrained by poor transport, including the need for freight to be transhipped to lorries at Hayratan.
While security 'remains an ongoing concern', the north of the country is deemed 'relatively safe'. Speaking to the UN Security Council on September 29, Kai Eide, Special Representative of the Secretary-General for Afghanistan, said the international community should give urgent priority to long-term projects to encourage economic growth in stable parts of the country.
'This line will boost freight volumes, lower costs, raise the profile of Afghanistan as a transit route, and complement two major transport corridors being developed under the Central Asia Regional Economic Co-operation programme', said Balabhaskara Reddy Bathula, Transport Specialist with ADB's Central & West Asia Department.
The project is planned as the first phase of a larger network, including links west to Herat, east to Tajikistan and south to Pakistan as part of CAREC's drive to improve connectivity throughout the region.
As well as the Hayratan line there is also a short cross-border line into Afghanistan from Turkmenistan.
Iran is currently building a standard-gauge line to Herat. Chinese firms have a copper mining concession at Aynak, near Kabul, to which a rail link is under investigation, and the Chinese government is also reported to be offering assistance with long-discussed plans for extensions of the Pakistan Railways network to Spin Boldak and Jalalabad.