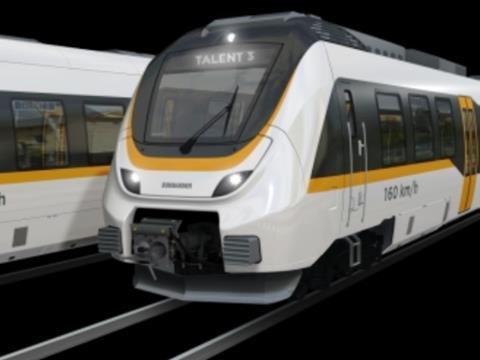 GERMANY: Bombardier Transportation is to develop a battery-electric multiple-unit for operation on non-electrified routes, under a research programme to be partially funded by the Ministry of Transport & Digital Infrastructure.
Attending the InnoTrans 2016 trade fair in Berlin on September 20, Transport Minister Alexander Dobrint presented a letter of intent to Bombardier committing €3·9m of innovation funding to support the development under the government's electro-mobility programme. Work is expected to get underway at the start of quarter 4 2016, with a prototype trainset to be ready for test running by mid-2018.
Bombardier will be working with Technische Universität Berlin, Südwestdeutsche Verkehrs AG and Nahverkehrsgesellschaft Baden-Württemburg to develop a battery-electric variant of its new Talent 3 EMU family. The three-car unit will be powered by Bombardier's Primove batteries, as used on hybrid trams, and will feature an energy management system to optimise performance.
As well as recovering regenerated braking energy, the battery will be charged from the overhead line while the BEMU is running on electrified lines. A range of around 100 km between charges is anticipated. The project will also be investigating the development of a rapid recharging station to top up the battery on longer routes, rated at around 1 MW.
The prototype trainset is expected to be tested on SWEG regional routes in Baden-Württemberg. Noting that around half of the German network is not electrified and reliant on diesel trainsets, Dobrint said 'our investments will help develop a zero-emission, energy-efficient and cost-effective alternative to diesel trains. Deploying fuel cell and battery technology for rail transport will usher in a new era for non-electrified routes'.