NETHERLANDS: More than a year after Queen Beatrix inaugurated the purpose-built Betuwe Route freight corridor, capacity restrictions are coming off and revenue operation is starting to ramp up. Eight paths an hour each way will be available from August 1.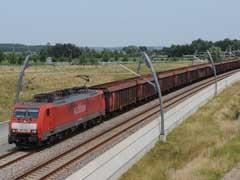 The extraordinary restriction imposed in the name of safety that only one freight train at a time in each direction could occupy the newly-built 113 km Betuwe Route between Kijfhoek yard and Zevenaar in the Netherlands was finally lifted on June 15, just a year after the €4·6bn dedicated freight line was formally 'opened'.
A ban on allowing two trains to follow each other through the 8 km Sophia tunnel until sprinklers had been installed at the behest of a local authority - seemingly unaware that hardly any railway tunnels in the world are so equipped - was due to be lifted on August 1, which means that eight train paths an hour in each direction should now be available to freight operators.
However, this is considerably more than can be handled on the 61 km double-track line between the German frontier at Emmerich and Oberhausen. Until a promised third track is completed around 2014, only six freights an hour in each direction can be accommodated at night and three to five an hour during the day.
Another plus for operators using the Betuwe Route is the lifting from June 15 of the requirement to stop each train at Zevenaar, where ETCS Level 2 interfaces with standard Dutch ATB train protection through to Emmerich. The running time from Kijfhoek to Emmerich is now 1 h 30 min for 100 km/h intermodal and wagonload trains, and 1 h 45 min for heavy bulk trains of coal and iron ore limited to 80 km/h.
For now, DB Schenker (formerly Railion Nederland) is planning to operate around 180 trains a week over the new line, adding both directions together. Other freight operators are only using it occasionally at this stage.
Trouble at the harbour
But this is not to suggest that the problems faced by DB Schenker and their open access competitors are at an end. The situation on the Harbour Line, which runs through Rotterdam's huge complex of docks extending for more than 35 km from Waalhaven to Maasvlakte in the North Sea, continues to be unsatisfactory.
From September 7, the new Kort-sluitroute (short cut) bypassing Wallhaven yard comes into use for all trains not carrying containers. But the maximum speed is limited to 40 km/h, like the rest of the route between Kijfhoek and Pernis, because the ATB train protection system previously used on the Harbour Line is being removed ready for its replacement by ETCS Level 1.
This extends running times by 10 to 15 min, which the operators consider acceptable as a temporary measure. However, no work has started on the certification and approval process for ETCS Level 1 on any type of locomotive used on this line, so 'temporary' running at 40 km/h without train protection could continue for a long time.
On the main section of the Betuwe Route, DB Schenker has not been pleased by the news that from December 14 scheduled running times must by extended from 1 h 30 min to 2 h 20 min on Tuesday, Wednesday and Thursday each week to facilitate single-line working during the day. This is reportedly because infrastructure manager Keyrail's budget is tight, and the track maintenance contractors are offering cheap rates for daytime work.
In addition, the Betuwe Route is closed until 16.00 on Sundays and 18.00 on Mondays for both track maintenance and for testing new ETCS equipment as it is installed on the locomotives, leaving Fridays and Saturdays as the only days when running is not restricted.
Meanwhile, there is still no sign of any approval for Bombardier's ETCS Level 2 equipment being installed on the Class 6400 diesel fleet, reportedly because of software problems. Tests have been postponed, and DB Schenker has stopped sending the locos to Randers in Denmark for retrofitting because 10 that had been converted there so far failed to work correctly with the legacy ATB.
DB Schenker is mainly using its Class 189 electric locos fitted with Alstom ETCS equipment on the Betuwe Route. It has now decided to retrofit 22 Class 189s with ATB, ETCS and heavy-duty couplers so that they can haul (in pairs) the iron ore trains between Maasvlakte and Dillingen in Germany. On entering service in 2010 they will replace 12 Class 6400 diesels in the Netherlands and 14 Class 151 electric locos on the German leg. These ore trains are due to be switched to run via the Betuwe Route as soon as enough line capacity becomes available in Germany.