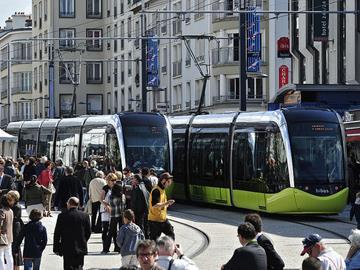 FRANCE: Ceremonies took place on June 23 for the opening of the new tram line in Brest. The 14·3 km route runs from Porte de Plouzané in the west to Porte de Gouesnou and Porte de Guipavas northeast of the city centre, serving 28 stops including four park and ride sites offering a total of 900 spaces.
Some 27% of residents and 38% of jobs are now within 450 m of a tram stop. End-to-end journey time is 28 min.
The route is operated with a fleet of 20 Alstom Citadis trams, with each five-section 32·7 m long vehicle able to accommodate a total of 50 seated and 100 standing passengers. By placing France's first joint order with Dijon for a total of 52 cars, Brest was able to bring the cost per vehicle down to €2·1m.
The total project cost is expected to be €383m, including €197m for infrastructure work, €24·7m for the 4·5 ha depot and €22·3m for structures.