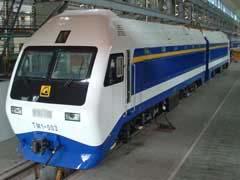 POLAND: China South's Zhuzhou Electric Locomotive Co has been named as lowest bidder for a contract to supply Koleje Mazowieckie with 11 electric locomotives by December 2011. The Mazowsze regional passenger operator is seeking locomotives to power 160 km/h push -pull trainsets using 37 coaches supplied by Bombardier in 2008-09.
UK-based China Sourced Railway Equipment assisted CSR Zhuzhou with the bidding process, and helped to develop the required four-year maintenance package. When the tenders were opened at the end of 2009 CSR Zhuzhou's €35m bid was lower than Bombardier's €41m and Siemens' €44m offer.
The winner is to be selected on the basis of price (70%), delivery dates (25%) and warranty length (5%). A previous tender was cancelled after the only bid came from Bombardier and exceeded the voivodship's estimates.
CSRE is keen to bring Chinese rolling stock to the UK and continental European markets, and identified the tender as a possible route to Europe. Managing Director David Shipley told Railway Gazette International that the Chinese bid is technically and commercially compliant, and he expects a contract to be awarded by the end of March.