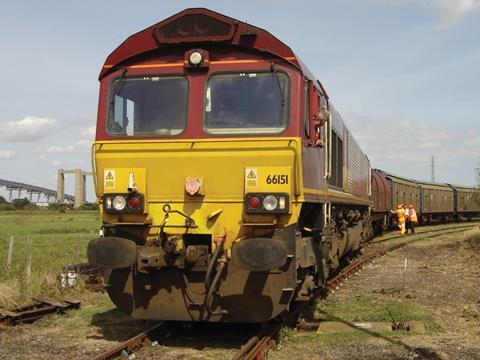 UK: Freight operator DB Cargo UK has confirmed that it is to launch its 'future business model' on July 2, having reached an agreement on the changes with the unions which represent the majority of its workforce.
Discussions with ASLEF, RMT, TSSA and Unite began in October 2016 when DB Cargo UK announced plans to cut 893 jobs, almost a third of its workforce, as part of a restructuring triggered by a rapid decline in the coal traffic which has always been a core business for rail freight.
On April 26 DB Cargo UK CEO Hans-Georg Werner said the company would be introducing 'flexible, more modern and efficient' working arrangements, which would enable it to 'significantly increase the productivity of our operational teams and better align our resources with customer demand'.
'I would like to thank ASLEF, RMT, TSSA and Unite for their continued dialogue with us', he said. 'Under the pressures of the market we were able to find agreements acceptable to all parties and avoid industrial action. We regret that some colleagues will be leaving us, but treating our people fairly to secure a business that will be successful in the future has been at the heart of our discussions.'
Simon Weller, Assistant General Secretary of train drivers' union ASLEF, said 'we are keen to ensure that DB Cargo survives and provides sustainable jobs for the future.'
Although coal traffic is in decline, markets including aggregates and steel remain buoyant. 'We will now move forward with our plans to lead the next generation of rail freight which includes key investments such as new wagons, terminal enhancements and combining our core function of delivering goods by rail with bespoke in-house IT solutions, to give our customers the best service and make it easy for them to do business with us', said Werner.
DB Cargo is investing in Astra Rail MMA wagons and developing its Anubis customer order IT system. Digital remote conditioning monitoring is being fitted to 97 Class 66 and 28 Class 67 locomotives to identify and prevent mechanical problems up to two weeks before a failure might have occurred.
'There is a strong future for rail freight in the UK because it offers benefits that its competitors, mainly road, cannot', said Werner.