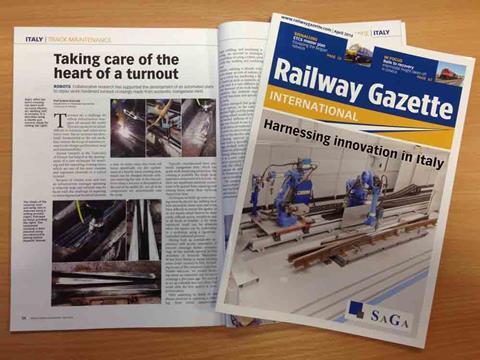 Comment
Making the most of freight capacity
News
Main Line
Urban Rail
Market
Industry
Innovations
Pointers
Analysis
Mixed messages in Brussels
Turkish localisation drive takes off
If it ain't broke, why fix it?
Signalling & train control
Master Plan targets 2022
Work is well underway on a comprehensive programme to equip the entire Belgian network with ETCS in little more than a decade, driven by the need to raise capacity and improve safety while lowering costs
Sharing knowledge across borders
The ERTMS Users Group has played a key role supporting Europe's infrastructure managers in the development and roll-out of ETCS, Managing Director Michel Ruesen explains
The right tools in the right markets
A communications backbone and decentralised architecture offer significant savings in the cost of train control technology, Siemens Rail Automation CEO Jürgen Brandes tells Chris Jackson
Italy
NTV weathers the recession
Two years after its entry into the Italian high speed market, NTV is looking to build on its 20% market share, as Giuseppe Bonollo explains to Murray Hughes
Harnessing innovation to improve performance
RFI has introduced a variety of tools over the past two decades to improve the condition and capability of the national rail network, but these need to be integrated and managed effectively in order to maximise the benefits
Optimising planning on regional railways
Trenitalia has worked with IVU to introduce resource management software which has significantly accelerated the planning process for staff and rolling stock at its regional passenger business
Taking care of the heart of a turnout
Collaborative research has supported the development of an automated plant to repair work-hardened turnout crossings made from austenitic manganese steel
Expo Ferroviaria preview
Now in its 10th year, Expo Ferroviaria takes place in Torino on April 1-3
In focus
On the cusp of change
With final bids expected shortly for the sale of Greece's state-owned operator, TrainOSE is embarking on an innovative intermodal project which offers the prospect of significant freight growth. Chris Jackson reports from Athens
Research & skills
Forum
People
Dieter
Sidetrack
Diary
Viewpoint
Rail Supply Industry Watch
We asked a panel of senior executives what steps would help to accelerate the deployment of ERTMS and ETCS as a means to improve interoperability in Europe
Railway Gazette International is the leading business journal for railway operators and suppliers, read in 140 countries. Subscribe to Railway Gazette International today.