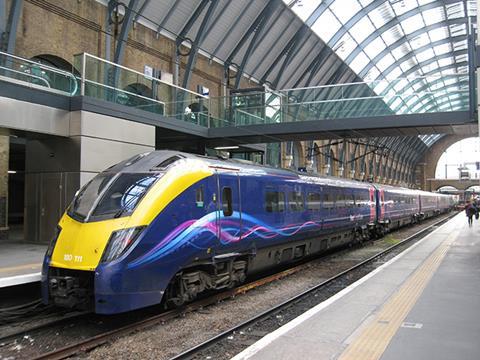 UK: FirstGroup has applied to the Office of Rail Regulation for track access rights which would enable it to launch an open access passenger service between London King's Cross, Stevenage, Newcastle, Morpeth and Edinburgh from 2018.
The service of five return trains/day with journey times of 4 h to 4½ h would be designed specifically to encourage travellers to switch from air to rail. FirstGroup says two-thirds of journeys between London and Edinburgh are made by air, and because its proposal 'specifically targets segments of the market where the rail industry's share of the market is currently less than 50%, our proposals are not primarily abstractive and will grow the overall rail market'.
Stevenage station is 'close to Luton and Stansted airports', while Morpeth 'is close to Newcastle airport', which would 'help potential air travellers consider rail as an option'.
FirstGroup said fares would be 'highly competitive with budget air carriers', with free wi-fi and onboard catering in 'one high-quality class of travel on brand new, state-of-the-art rolling stock comparable to other trains being introduced on the route.' These would be five-car electric trainsets operating at 200 km/h with 'performance characteristics that will as a minimum match' the Class 800/801 rolling stock currently being built by Hitachi for use by franchised operator Virgin Trains East Coast.
FirstGroup's track access application has been submitted by East Coast Trains Ltd, a new train operator which would operate under a new brand. ECTL would be a wholly-owned subsidiary of First Rail Holdings Ltd, which currently holds three passenger rail franchises and open access operator Hull Trains.
'These innovative plans will give customers travelling between London, the northeast of England and Edinburgh an attractive alternative to flying', said FirstGroup CEO Tim O'Toole. 'We hope to entice passengers away from budget airlines through our low fares and high-quality trains. Open access operators can really add value and create passenger loyalty by serving niche markets. Our current company First Hull Trains remains an exceptional example of how passengers can benefit from this type of operation. We have put our compelling case to the ORR and we are looking forward to hearing the outcome of our application.'
A decision on the application for track access rights is expected within 12 months
FirstGroup company First Hull Trains operates open access services between London and Hull. Managing Director Will Dunnett explained the key to its success in the May 2014 issue of Railway Gazette International, which subscribers can read in our digital archive.