AUSTRALIA: A remarkable iron ore railway has been built across the Pilbara region in record time. John Kirk reports.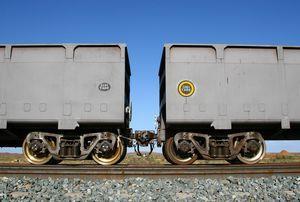 The Fortescue River is the only permanent watercourse in the Chichester Range of the remote Pilbara region in northwestern Australia. The area is famous for its mineral deposits, and in 2003 the Fortescue name was adopted by a mining company with ambitions to compete in the booming market for iron ore.
The market is being driven by insatiable demand from China, and Fortescue Metals Group arrived on the scene to compete against established giants BHP Billiton and Rio Tinto. Defying the odds, the weather and the critics, FMG shipped its first iron ore to China in mid-May. Exploratory test drilling had begun just 42 months earlier - in that period FMG managed to plan, design and build a mine with ore processing facilities, plus a 260 km heavy haul railway and a port for Cape-size ships with ship loader and train unloading plant.
FMG has holdings or tenements spread over 40 000 km2 - about the same size as Switzerland. This far exceeds the combined tenement areas of both Rio Tinto (11 000 km2) and BHP Billiton (7 000 km2).
The Fortescue story is as much about its CEO Andrew Forrest as it is about iron ore, the Pilbara, open access infrastructure and China. Forrest is passionate about the Pilbara and about Australia's role in the global economy. When he first announced his dream to become a significant iron ore producer in the Pilbara, the experts laughed, but the jokes have since stopped. Forrest has proved his detractors wrong, and in the process he has built the world's heaviest haul railway.
Originally, Fortescue had no intention of building its own line. The company made numerous attempts to secure access for its trains on the existing Pilbara iron ore railways owned by BHP Billiton and Rio Tinto. Despite winning several legal battles, they eventually lost the war through political intervention and had to invest an estimated A$2·5bn to build their own 260 km railway linking their mine at Cloud Break with their new Herb Elliott Port near Port Hedland.
The market
The original plan was to produce 45 million tonnes per annum (mtpa) of iron ore, but this was subsequently lifted to 55 mtpa. Remarkably, this first-phase production has sold out, and agreements have been signed for an additional 50 mtpa. A long-term agreement was signed in March 2007 with Baosteel, China's biggest steel producer, for up to 20 mtpa, as well as a joint venture to mine magnetite.
Since then, more than 35 sales agreements have been signed, and the top 10 Chinese steel mills have all agreed supply contracts. In a clear indication of the importance of its Chinese customers, Fortescue has opened its first offshore office in the Pudong business district of Shanghai.
In March this year FMG announced that it was going to ramp up production to meet increased demand from the Chinese steel mills with the expectation that once the project was fully completed and commissioned, it would be looking to produce over 100 mtpa.
In an expression of confidence in the future, Forrest predicted that once new deposits in the Solomon region were developed, annual production could increase to around 200 mtpa. This compares with BHP's current output of about 135 mtpa and Rio Tinto's estimated 115 mtpa.
First shipment
On May 15 2008, the conveyors at Herb Elliott Port completed loading 180 000 tonnes of high quality 'Rocket' iron ore on to the Cape-size vessel MV Heng Shan, which translates as Everlasting Mountain. This marked the culmination of an extraordinary achievement by around 12 000 people who have worked on the project. Celebrated as the 'First Ore On Ship', it was the first official shipment to China, quickly following a trial consignment of 70 000 tonnes that had been dispatched as part of the port's commissioning process.
FMG had celebrated another landmark moment on April 5 2008 when it carried its first load of Cloud Break ore to Port Hedland. The train, named the Alannah MacTiernan Express after Western Australia's transport minister, carried the first ore 185 km from Hunter Siding to the port.
On the next day, a manual team and the Plasser & Theurer SUM2000 tracklayer placed the last sleepers and connected the final piece of rail linking Cloud Break to the mine. In a letter to the Australian Stock Exchange dated April 8 2008, FMG reported 'as of 02.30 this morning its railway is fully connected between Cloud Break and Port Hedland. The last of the rail sleepers and rail line have been laid along the main line between Fortescue's Herb Elliott Port through to the ore preparation facility at Cloud Break, some 260 km to the south.'
Rail infrastructure
The railway is built for 40 tonne axleloads, making it the heaviest haul railway in the world. For comparison, the other Pilbara railways operate with axleloads of 35 tonnes and 37·5 tonnes, while the trans-Australian main line was recently upgraded to operate at just 21 tonnes.
Unlike the other Pilbara railways, FMG's line was built for open access. Through its wholly-owned subsidiary and railway owner, The Pilbara Infrastructure Pty Ltd (TPI), FMG will negotiate access to the line with other Pilbara-based mining companies. This reflects the company's philosophy of providing infrastructure to develop its assets for the benefit of the Pilbara, Western Australia and Australia.
The key design objectives and philosophy of the railway were to limit its impact on the environment, to make the line as short as possible, to minimise adverse gradients and to ensure efficient maintenance to the highest standards.
Construction began in November 2006 with infrastructure specialist Laing O'Rourke's rail team in charge. The completion deadlines were tough - the entire railway had to be built from scratch and operational in less than 18 months.
Cyclone threats, wet weather, finding skilled people and maintaining machine availability in a remote area of Australia all provided challenges to the construction team.
Two manual tracklaying crews at each end of the line complemented the SUM tracklayer, and productivity of the machine was improved during construction to enable it to lay up to 3 km of track a day.
Cyclones in March 2007 cost the company considerable construction time and caused the death of two workers. The delay prompted FMG to accelerate the work programme to get the railway back on schedule. Work forged ahead at more than six sites, and Fortescue's own mine team provided 40 people and 18 pieces of equipment to help complete earthworks and capping.
The 1 435 mm gauge line used 38 000 tonnes of continuously welded 68 kg/m rail supplied by China's Panang Steel; 420 000 concrete sleepers made by Austrac in Port Hedland; countless Pandrol clips; eight bridges and 360 culverts. There are four short 250 m long sidings, three 3 km passing loops, and one balloon loop at the port, plus a siding at the Cloud Break mine with a 3 km spur on the south end.
From Cloud Break the line heads northwest to the Chichester Range, running parallel to BHP's Mount Newman Railway for around 100 km and crossing it using a flyover. It then runs directly towards the coast. The unloader is located just south of BHP Billiton's Boodarie yard, and a conveyor takes the ore over the Finucane Island road and the Goldsworthy Railway to the ship loaders.
Laing O'Rourke's Rail Regional Manager (West) Graeme Spragg summed up the kind of hurdles the team had overcome to meet the deadline. 'A radiator on the SUM tracklaying machine blew, so the team came up with an innovative stop-gap measure, plumbing up a series of 200 litre drums and filling them with water and ice until a replacement arrived. This saved several days' lost production and typified the determination of the whole project team in meeting the target milestone dates.'
Spragg said the decision to operate two independent materials trains instead of one also helped increase productivity. 'Within two days of using the two materials trains we set what we believe to be a new Australian tracklaying record of 3 292 m in a single day', he said. In all, 285 km of track was laid and eight bridges were built.
Locomotives and rolling stock
The initial order of 816 ore wagons was manufactured in China by CSR in Zhuzhou Rolling Stock Works and shipped from the port of Zhangjiaga. The wagons are in permanently coupled pairs and are fitted with rotary couplers for tippler unloading. After arrival, the wagons were deployed over completed sections of track as part of the company's dry commissioning process. It is understood that another 160 wagons are on order.
In full operation, FMG will run 2·5 km long trains of up to 240 wagons hauled by two GE Dash 9-4400CW diesel locomotives - a design that is already proven in the harsh Pilbara environment. Setting a new benchmark in heavy haul railways, the wagons have a tare weight of 23 tonnes and can carry up to 137 tonnes of ore. Each trainload will consist of about 30 000 tonnes of ore.
The fleet of 15 locomotives was supplied by United Group in partnership with GE Transportation. The locomotives and wagons are equipped with electronically-controlled air brakes from New York Air Brake. According to NYAB, their EP-60 technology improves braking performance, allowing long and heavy trains to operate at higher speeds with improved safety and fuel economy. Stopping distances are shorter and in-train forces are considerably reduced.
Four former Robe River and Hamersley Iron C-636R Alco units were rebuilt by GTSA Engineering in Perth and used to haul tracklaying and construction trains. Owned by Coote Industrial, the locomotives were leased to Australian Rain Mining Services, a subsidiary of South Spur Rail Services. All four were fitted with 'Pilbara cabs', painted in FMG's colours and given individual names.
Operations and unloading
Simplicity and efficiency are the keys to FMG's railway operation. When the line is fully operational, two banker locomotives will assist the two train engines to haul the loaded ore train to the top of the Chichester Range grade and will then return to the mine. The bankers will in turn be replaced by the locomotives off the next empty train arriving from Port Hedland, ensuring that motive power with adequate fuel is always available. Currently, trains are operating with three Dash 9 locos hauling up to 240 wagons.
No signals are operational as yet, so train orders called Proceed Authorities are issued to the driver of each train for safe working. The PAs are issued over a UHF radio network via 10 repeaters sited along the line. Each locomotive is equipped with two radios and a satellite phone.
Track Access Authorities are issued for trackwork and maintenance by train control currently located in Port Hedland, but with a planned move to Perth once the operation is up and running. Like the other Pilbara rail operators, FMG will use single person crews.
The twin-cell rotary dumper at Anderson Point was supplied by Metso Minerals and was manufactured and assembled at the AGC workshop in Kwinana, south of Perth. The cells incorporate a fixed beam and onboard hydraulic clamping. The wagons are positioned using an indexer, two wagons at a time. The system then rotates the two tippler cells through 160° to ensure a fast dump. Metso Minerals designed the system to accommodate a throughput of 80 wagons/h, with a cycle time of 90 sec.
The infrastructure at Anderson Point is designed to handle the first phase of FMG's 55 mtpa output, and it is expected that later expansion will include a second and third train unloading system.
Community development
FMG is committed to building strong local communities in this remote part of Australia. In August 2007 Forrest announced an important housing programme, promising to build 250 high-quality, environmentally-friendly homes in Port and South Hedland in his 'battle against fly-in fly-out, socially de-stabilising work practices'.
The housing 'directly swings the tide back against fly-in fly-out which exacts such a heavy toll against sustainable local communities and the families of all involved', he said, adding that 'the Pilbara is not a short term quarry. It will sustain major wealth generation for Australians for hundreds of years. The Pilbara therefore can and must host long-term, fully-sustainable and high-quality living Pilbara communities.'
Construction is now underway, and the first homes are expected to be ready by mid-2008, defying the shortage of builders in many WA mining towns.
The open access battle
FMG has taken a strong stand in support of open access infrastructure in the Pilbara, believing that access will open up a number of isolated iron ore deposits in the region.
The company is practising what it preaches. After signing an infrastructure agreement with the Western Australian State Government in December 2004, Fortescue set about designing and constructing rail and port facilities that would meet its own requirements as well as support the development and sale of the Pilbara's stranded iron ore bodies.
The company website proclaims that 'Fortescue's open access infrastructure will increase the throughput capacity of Port Hedland and remove a fundamental barrier to entry for junior mining companies. As a result, increased production, competition and efficiencies will result for the bulk mineral exports in the Pilbara region.'
Looking at its own future, Fortescue is facing considerable investment to expand its existing rail infrastructure to link new mines with its port.
Through TPI, FMG has made three applications to the National Competition Council to open up lines owned by Rio Tinto and BHP Billiton under Part IIIA of the Trade Practices Act 1974. The company wants access to BHP Billiton's Mount Newman line for its proposed Mindy Mindy project, which it owns in a joint venture with Consolidated Minerals. The other applications were to open Rio's Hamersley Iron rail network and the BHP Billiton Goldsworthy rail network. Both BHP Billiton and Rio Tinto have argued, so far unsuccessfully, that the rail line was part of the production process and therefore proprietary.
In an application to the National Competition Council in January this year to open up Rio Tinto's Robe River Railway, Fortescue Executive Director Graeme Rowley said 'Fortescue is seeking to open the tremendous transport logistic synergies available in the Pilbara to all Australian mining companies. There are sufficient stranded iron ore deposits in the Pilbara, which alone many not be of sufficient scale to support their own infrastructure, yet could become viable with access to existing infrastructure such as the Robe River railway.'
Although FMG has won the major legal battles to gain access to BHP Billiton's Mount Newman rail lines, the success has been undermined by federal government intervention, particularly former treasurer Peter Costello's decision not to support the National Competition Council decision in 2006 that Fortescue be given access. 'Three decisions, one by the National Competition Council and two by the Federal Court, have now ruled in favour of Fortescue's attempts to gain access to a railway our planning forefathers always intended would be open to third-party access', Rowley said.
Nor is there much support from the new Labor government. BHP scored a small victory when federal resources minister Martin Ferguson indicated that he would review the Trade Practices Act legislation that governed third party rail access, particularly in relation to the public interest provisions. 'We've got to work out a framework which guarantees further investment by BHP ... and further investment by Fortescue, but not on terms which destroy what is the best mining logistics chain in the world', Ferguson was quoted as saying.
FMG has vowed to press on with its attempts to gain access to the other Pilbara railway lines and has in the meantime signed up a three-part Pilbara port handling, ship loading and rail haulage memorandum of understanding with Atlas Iron. The one-year deal starting in March 2009 will see TPI rail 3 mtpa of ore from Atlas's Abydos project. Product from the company's Pardoo mine will be transported by road to Port Hedland and shipped out through Fortescue's port facilities. 'While Atlas is planning to haul Pardoo iron ore to Port Hedland by road, we believe that rail is the safest and most commercially viable means to haul iron ore', said Atlas Managing Director David Flanagan. 'Wherever we can work with infrastructure owners to achieve a workable rail solution, we will.'
It is too early to predict the future for FMG. Forrest is certainly upbeat about expansion plans to meet the growing demand for Pilbara iron ore, and the share price at the time of writing reflects this optimism - FMG shares were trading at A$10·71, up from A$5·66 in November 2007.
CAPTIONS: Three GE Dash-9 locos haul a loaded train from Cloud Break mine.
A ballast train waits to deliver its load as construction makes progress in February.
FMG's ore wagons were manufactured in China and are fitted for ECP braking. Equipped with rotary couplings for the tippler at the port, each pair of wagons can carry 274 tonnes of iron ore.
Planned extensions from Fortescue's main line include branches to Christmas Creek and the Solomon area; when the Solomon mines are in production, FMG could be railing 200 mtpa to Port Hedland.
An empty train leaves Herb Elliott Port; the BHP Billiton hot pellet plant in the background is to be dismantled.
Track on the Fortescue main line consists of 68 kg/m rail supplied by Panang Steel from China with Pandrol fastenings and concrete sleepers made by Austrac.
The ore and the mine
Commercial mining of high-grade Marra Mamba haematite ore commenced at Cloud Break in late 2007. Marra Mamba ore was originally rejected by early miners as 'fool's gold' because they didn't believe it was possible to make steel from the crumbly yellow cakey-looking ore - it didn't look like the hard, blue-grey haematite ores. However, Marra Mamba ore is relatively high grade with around 62% iron content, has lower impurities than some Australian iron ore, and its low silica content makes it particularly attractive in iron making processes.
FMG is using a mix of traditional mining methods and a few innovations of its own. It is the first iron ore mine in the world to use surface mining rather than the traditional drill, blast and crush, deep open-cut method. Surface mining has a number of advantages, including reduced downtime due to blasting; cleaner pit floors resulting in less damage to vehicles and tyres; and environmental restoration can be undertaken almost immediately after mining has occurred.
Mining commenced during December 2007 with four Wirtgen surface miners operating on a single shift in the first two of Fortescue's four start-up pits, Daydream and Hayman. Both pits produced about 650 000 tonnes of ore in the first three months, and by the end of this year the Green and Hook pits should also be in operation. At full production 14 Wirtgen surface miners will be running 24 hours a day, seven days a week, 365 days a year.
Milestones in the Fortescue story
Early 2003 The Metal Group Pty Ltd acquires Allied Mining & Processing and changes name to Fortescue Metals Group.
May 2003 Fortescue acquires first tenements at Cloud Break and Christmas Creek.
Oct 2004 Iron ore sales agreement with Hebei Wenfeng and Ping Xiang Iron & Steel.
Dec 2004 Infrastructure WA State Agreement signed.
Jan 2005 FMG raises A$70m through convertible note issue.
Feb 2005 FMG discovers significant iron ore mineralisation in the Cloud Break area.
Oct 2005 FMG signs sales agreements for 38% of initial planned production of ? 45 mpta and begins trial mining at Cloud Break.
Dec 2005 Mining State Agreement signed.
Feb 2006 Commencement of earthworks at Anderson Point, site of the port.
Apr 2006 Feasibility study for Cloud Break and Christmas Creek completed.
Jul 2006 Federal Environmental Approval granted.
FMG signs a Subscription Agreement with Leucadia National Corp of the USA; dredging commences at port.
Aug 2006 FMG settles A$3·2bn capital raising and A$2·7bn debt underwriting.
Nov 2006 Railway construction commences with earthworks and the marshalling yard.
Dec 2006 Detailed Proposals for Mining Approval agreed.
Mar 2007 Iron ore sales agreement with Baosteel, taking sales of initial 45 mpta output to 100%.
May 2007 Iron ore sales agreement with Tangshan and agreement with Fengli.
Jul 2007 Institutional equity placement A$504m raised; tracklaying commences.
Aug 2007 Fortescue joins S&P/ASX 100 index.
Oct 2007 China Office Opened in Shanghai; commercial mining starts at Cloud Break.
Nov 2007 FMG announces substantial estimates of Inferred Resource for the ? Solomon East Project area.
Feb 2008 Railway bridges completed.
Mar 2008 Railway earthworks completed and train unloader commissioned.
Apr 5 2008 Construction of railway completed and first load of ore moved by train; wet commissioning of Herb Elliott Port with trial ore shipment.
May 15 2008 First shipment of ore loaded at Herb Elliott Port, Anderson Point.