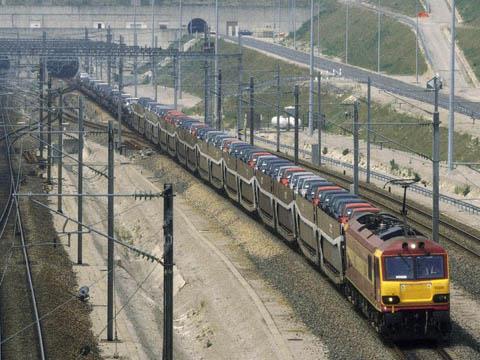 UK: DB Schenker Rail (UK) announced on April 16 that it had signed an agreement with HS1 Ltd to develop TVM software modifications enabling Class 92 electric locomotives to operate on High Speed 1, the high speed line from the Channel Tunnel to London.
Infrastructure owner HS1 Ltd and DB Schenker have also agreed outline terms for a track access agreement in anticipation of the commencement of freight services on High Speed 1 in early 2010. 'This initiative will allow full-size European rail freight vehicles to move between the UK and the rest of Europe', said Graham Smith, Planning Director for DB Schenker 'It will open up a massive market for cross-Channel rail freight, delivering major environmental and economic benefits'.
HS1 Ltd will ensure that the modifications are available to all Class 92 owners wishing to operate over the high speed line. Eurotunnel subsidiary Europorte 2 has five Class 92 locomotives bought from Eurostar in 2007.