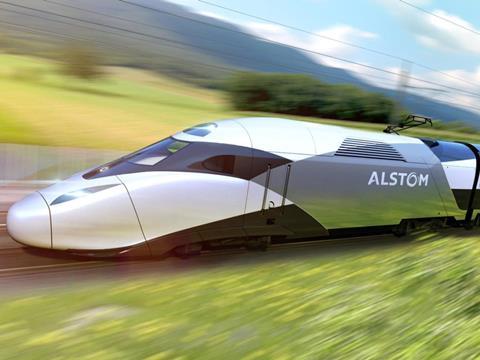 FRANCE: Finance Minister Bruno Le Maire has said that the government is to place a firm order with Alstom 'by the end of June' for 100 TGV trainsets. He was addressing a press conference on March 22 to update progress on the merger of Siemens Mobility and Alstom.
These would be the first build of a next generation of high speed trainset being developed under the 'TGV of the future' programme launched by Alstom and SNCF in September 2016. Due to enter service in 2022-23, the design is intended to reduce acquisition and operating costs by at least 20%, with the 'material recyclability rate' increased to over 90% and energy consumption reduced by at least 25%.
The next-generation TGV would have a more modular interior and is expected to offer a 20% increase in capacity, carrying around 700 passengers compared to approximately 500 in existing TGVs. Passengers would also be offered improved onboard services and connectivity. The value of the order is estimated to be €2·5bn.
The trainsets are expected to share the short-wheelbase power car already developed for the Avelia Liberty trainsets which Alstom is supplying to Amtrak for use on the Boston – New York – Washington DC Northeast Corridor, and which the company has proposed for the High Speed 2 route in the UK.
According to Le Maire, the board of SNCF Mobilités is expected to sign off the contract 'either at the end of April or the end of June' and would use the fleet to replace its older TGV PSE and Atlantique trainsets which date from the 1980s. Le Maire said that the government order would be 'good news' for staff at Alstom's plants in La Rochelle and Belfort.