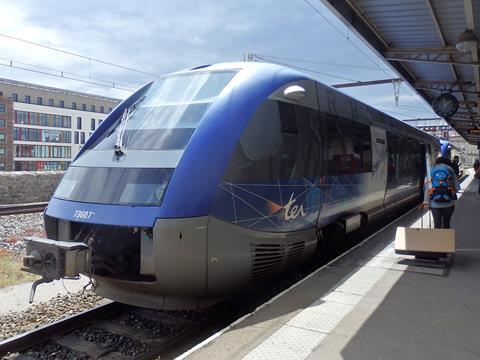 FRANCE: In announcing on February 26 his response to the Spinetta review of the state of France's national railway, Prime Minister Edouard Philippe rejected a proposal to close up to 9 000 route-km of secondary railway.
Former Air France-KLM Chief Executive Jean-Cyril Spinetta had issued his wide-ranging report into the future of the French railway sector on February 15, and the government has made clear its intention to make rapid progress with reform. 'The current situation is alarming, not to say untenable', Philippe said. 'The status quo is not an option.'
While noting the 'often necessary' investment in a now-extensive high speed network over the past four decades, Philippe said that the conventional network had deteriorated precipitously over recent years, with an asset age typically twice as old as in Germany. As a result, around a fifth of the network was subject to speed restrictions to ensure safe operation.
At the same time, the cost of providing rail services had spiralled to reach €14bn per year. 'This is more than the national education budget', Philippe said, pointing out that 'it costs around 30% more to run a train in France than it does elsewhere in Europe'.
With the exception of the advice on secondary line closures, Philippe broadly concurred with the Spinetta report's findings. He committed to 'building a new pact between the government, the SNCF group and the railway workers' as part of a profound reform of the state railway. This includes a commitment to end the recruitment of SNCF staff under the special legal status of cheminot. 'In future, staff joining the railway sector will do so under the same terms as those that apply in the wider labour market', Philippe insisted. However, the rights and pensions of existing SNCF workers would not be affected.
Philippe also recognised that the reform of SNCF needed to be undertaken in the context of a competitive market. 'Competition should come as no surprise', he said, adding that liberalisation of railways in neighbouring countries had led to 'more frequent and better services'. He also acknowledged that the leaders of several regions were 'demanding' the opportunity to look at potential new entrants to operate their tendered services.
Transport Secretary Elisabeth Borne outlined a timetable for three separate consultations into the rail market, which are to be concluded by the end of April. The first will study the potential impact of market opening, with distinct streams looking at the effects of competition on high speed lines and the tendering of regional passenger services; the second will assess the future structure of SNCF with the target of creating 'a more integrated yet agile group'; the third, which will be launched at the start of April, will look at labour market issues, including the phasing out of cheminot status.
The government intends to start the legislative process for SNCF reform from mid-March with a view to an initial parliamentary vote on the changes taking place by the summer.
Reflecting her own 'long career at the heart of SNCF', Borne said that 'we are at the start of a great reform process, and I will go into it with the conviction that it is absolutely necessary if we are to get SNCF out of its current malaise.'