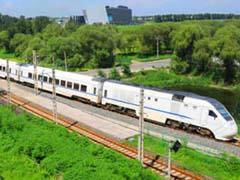 CHINA: To coincide with the Olympic Games an upgraded passenger service has been introduced between Beijing and the popular tourist destination of Badaling, the nearest section of the Great Wall to the capital.
Launched on August 7, the 16 daily Line S2 services takes around 1 h 20 min to cover the steeply graded and sharply curved 82 km route between Beijing North and Yanqing, around half the previous journey time. There are stops at intermediate stations for commuter traffic, plus Badaling for the Great Wall,
The service is worked by four specially built 'Harmony' trainsets, each comprising seven coaches and two power cars. CSR Qishuyan Locomotive built the 160 km/h power cars which are based on its NYJ1 design, while CSR Nanjing Puzhen Rolling Stock Co supplied coaches derived from Harmony EMUs.
The trains accommodate 446 passengers in three first class and three second class coaches, plus a buffet car. The trains have wide windows to enable passengers to view the scenery, and wheelchair accessible toilets are provided.