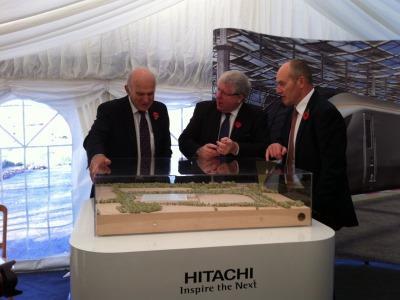 UK: Secretary of State for Transport Patrick McLoughlin and Secretary of State for Business, Innovation & Skills Vince Cable visited Newton Aycliffe in County Durham on November 1 to mark the start of construction on the new rolling stock manufacturing plant being built for Hitachi Rail Europe. Lead contractor Shepherd is due start enabling work in December and full construction from January; when completed in mid-2015 the factory will cover 43 000 m2.
'We want to establish Hitachi Rail Europe as a key British manufacturer of trains and this new factory is a huge step towards doing that', said Alistair Dormer, Executive Chairman & CEO of Hitachi Rail Europe. 'In just 18 months, what stands today as an empty field will become home to a state-of the-art facility, manufacturing trains for Europe and the UK.'
According to Hitachi, the plant at Newton Aycliffe represents an investment of £82m, with the Department for Business, Innovation & Skills contributing £4m. During construction 150 jobs will be created, and when the factory is in full production 730 people will be directly employed by Hitachi Rail Europe.
'Hitachi's decision to base its European factory in Newton Aycliffe shows the UK is an attractive place for international businesses to invest and grow', said Cable, pointing out that 'Hitachi are not selling trains here, they are making them here'. In return, he told Railway Gazette that he wanted to see British car and train companies operating in Japan, adding that 'it is up to us to negotiate trade agreements'.
The first rolling stock to be built at the plant will be the 122 Class 800 trainsets that Hitachi is supplying for the Great Western and East Coast main lines as majority shareholder in Agility Trains, contractor for the government's Intercity Express Programme. The new trains are to begin operating on the Great Western Main Line between London and south Wales by 2017, followed by the East Coast fleet a year later.
'The Intercity Express Programme is part of the government's commitment to investing in our nation's infrastructure', said McLoughlin. 'Building these new trains is supporting jobs and manufacturing across the UK. Like our plans for a national high speed rail network, these new faster trains will help stimulate economic growth by improving connections between our major cities.'
McLoughlin added that he wanted 'everyone to see these trains operating on both the East Coast and West Coast main lines, and say "these trains are made in Britain and we are proud of them".'
Suggesting that it was 'a good day for the UK as a whole', Cable also announced the creation of a Rail Supply Chain Forum to help UK companies to win work in domestic and export markets. To be chaired by Alstom UK President Terence Watson, the forum will work to build the capability of UK suppliers and reduce the risk of 'feast and famine' caused by peaks and troughs in major rolling stock orders.