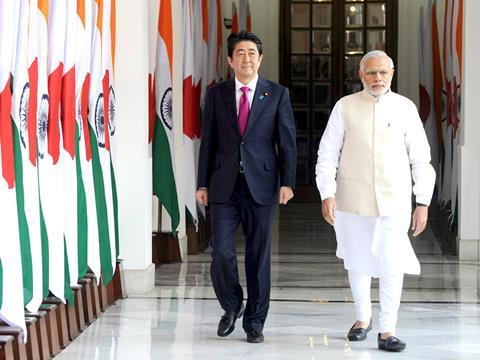 INDIA: Memoranda of understanding for the possible development of a Mumbai – Ahmedabad high speed line using Japanese technology as well as technical co-operation in the rail sector were signed by the governments of India and Japan on December 11-12, during an official visit by Japanese Prime Minister Shinzo Abe.
The MOU for co-operation on the proposed 508 km Mumbai – Ahmedabad high speed line was signed on December 12. Japan would provide a 50-year loan worth more than Rs790bn, with a 15-year grace period and an interest rate of 0·1%. India's Ministry of Railways said it had been agreed that Shinkansen technology would be adopted, with technology transfer to support the government's Make in India policy. Japan would also provide staff training.
Construction would only start after formal government approval of the project. A feasibility study was completed in July, co-financed by Indian Railways and Japan International Co-operation Agency, and it is envisaged that implementation could take seven years and cost Rs976·36bn.
In September the Ministry of Railways awarded contracts for three more high speed line studies: Delhi – Mumbai (Third Railway Survey & Design Institute with Lahmeyer International); Mumbai – Chennai (Systra with Rites and Ernst & Young); and Kolkata – Delhi (Ineco with Typsa and Technocrats). A study for a Delhi – Nagpur line is to be undertaken through an inter-governmental agreement with China.
On December 11 a memorandum of co-operation was signed by India's Ministry of Railways and Japan's Minister of Land, Infrastructure, Transport & Tourism. This covers safety, rolling stock including multiple-units, sharing expertise on station development and land value capture, sanitation, signalling and telecoms, electrification, civil and track works, train control systems and mitigation of natural disasters.
A MOU on technical co-operation between India's Research Designs & Standards Organisation and Japan's Railway Technical Research Institute covers areas including safety, maintenance, sustainability and capacity enhancement.
The signing of the memoranda follows a visit to Japan which Minister of Railways Suresh Prabhu made in September, when he held discussions with ministers as well as financial institutions which could potentially invest in India's rail sector.