WHEELSETS: Procurement managers must continue to look beyond initial capital cost when making purchasing decisions, despite the pressures of the global recession.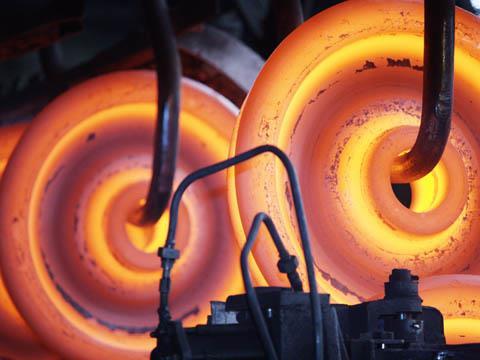 It hardly needs saying that the economic crisis has severely hit the manufacturing sector. The global credit shortage of 2008 has distressed the results of many a company worldwide, and the railway industry is far from immune - although as expected, the impact is being felt somewhat later. The freight market has already nosedived: Unife recently reported a 30% year-on-year decline in European transport volumes in Q1 2009.
Economic stimulus packages announced by various national governments may help to alleviate some of the symptoms, but the difficulty in accessing private finance is likely to cause the postponement or cancellation of major capital investment projects, with the freight sector also most exposed to the consequences. Equally, the European Commission's deregulation process has allowed new entrants into markets hitherto virtually closed to them. Deregulation is right, but it is all the more challenging in the current economic environment.
In such conditions, it is no surprise that cost reduction and productivity are back at the top of the rail industry's agenda. Rolling stock owners and train operators are keen to drive down the cost of procuring commodities such as wheelsets. Decreasing raw material costs, stalling demand and increased competitive pressure are all converging to strengthen their position. As a leading supplier of such components, GHH-Valdunes is also confronted with such requests. We believe the best answer lies in the analysis of life-cycle costs.
Just before the crisis started to bite, some leading European operators were starting to implement a thorough methodology for calculating and applying lifecycle costs as part of their procurement policy. The reason is clear: a low initial purchase price is by no means a reliable indicator of operating and maintenance costs; indeed an emphasis solely on upfront capital spending can prove short-sighted.
Heavy haul example
The heavy haul segment provides a useful illustration of the advantages of analysing whole-life costs. Trains carrying more than 30 000 tonnes of freight (usually iron ore) must show absolute reliability as well as very high availability. With gross loads up to 40 tonnes per axle, the same requirements apply to wagon wheelsets. Patiently and methodically building upon our considerable experience, the joint work between GHH-Valdunes and ArcelorMittal's teams in Canada has extended the service life of wheelsets to 2 million km.
An analysis of operations and maintenance procedures, and a specially-adapted wheel design accounting for steel quality and detailed geometrical features, have led to this outstanding achievement. Forged wheels have shown their value: even though their purchase price is higher (especially compared to the cast wheels commonly used in the USA), they remain unquestionably more competitive in terms of life-cycle costs.
The example illustrates three major points. First, considering the operational life of rolling stock is often more than 30 years, it is in the end-users' interest to look at whole-life costs. Investment decisions must be taken after a careful analysis of the costs related to operations, maintenance and disposal. Such tools can also be used to benchmark competing suppliers.
Secondly, life-cycle analysis helps suppliers gain a competitive edge over cheaper alternatives, especially those suppliers based in developed markets facing an initial hurdle of higher labour costs. The model can provide a valuable sales argument by highlighting the value of stricter quality control or more careful sourcing of raw materials.
Thirdly, this is absolutely the right moment to introduce the model as part of a structured approach to quantify the economic performance of rail vehicles and components. Advocating standardisation and harmonisation, the European Railway Agency has published TSIs to specify from a regulatory point of view the main attributes of a particular product. Life-cycle cost analysis is an entirely complementary process as it provides a quantifiable indicator of the long-term economic value of a product.
Despite the current hardships, the European railway industry has a promising future. The imperative to counteract global warming will undoubtedly favour the rail mode, but the industry must be pro-active in demonstrating its inherent advantages in a competitive transport market. Life-cycle cost analysis is a tool it needs.
Dr Raimund Abele is Executive Vice-President and Board Member of GHH-Valdunes group with responsibility for international affairs. Before joining GHH-Valdunes, Dr Abele was in charge of Rail Bearing products at Schaeffler Group. He has been Vice-President of VDB, the German railway industry association.