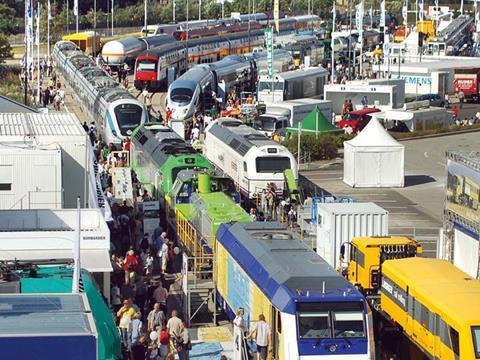 INNOTRANS: Over 800 exhibitors from nearly 30 countries will be present at the InnoTrans event on September 12-15, filling some 20000m2 of hall space within the Berlin exhibition grounds. Organiser Messe Berlin reports that the number of exhibitors is up 75% from the last InnoTrans event in 1998. Once again, visitors will be able to view an extensive outdoor exhibition as well as displays of all kinds of products and services for the rail sector in nine halls.
The rolling stock exhibits include several vehicles not seen before. Prominent among them is the Lirex (Lightweight Innovative Regional Express) demonstrator, an experimental suburban train embracing a raft of new technologies (p580). Siemens will have a Desiro trainset for Slovenia, a Taurus electric loco for Austrian Federal Railways, a Class 152 from its Dispolok pool (p561), a six-axle Class EG freight loco for Danish State Railways, a seven-section Combino tram for Freiburg, and two München U-Bahn cars. Jointly exhibited with Bombardier will be the diesel-powered tilting version of the ICE that features Cummins engines and Siemens' own tilting equipment (p554). Bombardier expects to have a new double-deck vehicle on show and possibly a Talent trainset, as well as a freight wagon from the former Waggonfabrik Talbot in Aachen.
Adtranz - still exhibiting separately from Bombardier pending rulings from the German and European merger authorities - plans to include a Class 185 electric locomotive (p565) and a Contessa dual-system Øresund trainset among its exhibits. Vossloh Schienen-fahrzeugtechnik expects to unveil its first G2000 freight loco, and Greenbrier will have on show three freight wagons built at its Polish plant.
Several industry groupings will be present, including the Union of European Railway Industries (Unife). National associations include Holland Rail Industry, Swissrail Export Association, Swedish Rail Industry Group Swerig and Britain's Railway Industry Association, whose stand will include Corus Rail. Among other RIA members present will be BTR Silvertown, Smiths Industries, Jarvis, Joyce-Loebl, Devol Engineering, NRS/Railpart, Hepworth and Whitely Electronics.
French organisations with stands include Sully Produits Spéciaux, Stratiforme, Valdunes, Jarret, Faiveley Transport, Forges de Fresnes and the Association des Industries Ferroviaires Nord-Pas-de-Calais.
Wheelset specialist Lucchini is one of several Italian companies in Berlin; others are rolling stock builder AnsaldoBreda, Gruppo Finind, Gruppo Fratti, and Mediterr Shock Absorbers. Spanish exhibitors include rolling stock supplier Talgo, and interior fittings manfacturer Temoinsa. Scandinavian exhibitors include Danish noise specialists Ödegard & Danneskiold-Sams?€?e and Vacon Traction of Finland.
Several North American companies are keen to advertise their presence in Europe, and these include bogie specialist ABC-NACO, Mosebach Manufacturing, PS Technology and Spear Technologies.
Infrastructure and electrification
Rival crane suppliers Kirow and Mannesmann Dematic AG Gottwald will both have demonstrations for visitors. Plasser & Theurer and Matisa will be showing their latest track maintenance machinery. German infrastructure contractor Leonard Weiss will also be exhibiting. Companies supplying permanent way equipment include Butzbacher Weichenbau, Cemafer Getzner Werkstoffe, Ortec, Rawie, Schreck-Mieves, Schwihag, Voest-Alpine, and Kaufmann, which will be showing its low-profile SGI12KV rail contact clamp.
Overhead line and electrification equipment will be on show from Switzerland's Arthur Flury AG, Furrer + Frey AG and Sécheron, and France's Spie Enertrans. Rauscher & Stoecklin of Switzerland will be presenting its range of isolating switches for 15 kV 16 2/3Hz and 25 kV AC (50 and 60Hz) catenary. Motorised versions showing switch status and remotely controlled from over 50 km away are in service.
As well as its range of connectors, contactors and snap action switches, Schaltbau GmbH will be launching its new ZH1500 disconnecting and earthing device, which can be installed and removed as a single module, a new S860 snap-action switch with positive opening, and a UIC558 connector for single-handed operation. Other Schlatbau subsidiaries sharing the stand will include Kiepe, Bode, Pintsch Bamag, Pintsch Aben, and InfoSystem.
Switches and buttons will also feature on the stand of Swiss firm EAO, while cable supplier Huber + Suhner will be showing its latest developments.
VST München, a subsidiary of Vossloh System-Technik GmbH, has developed a passenger information system that detects when a train actually stops at a station and calculates what connections are possible, triggering plasma and flap displays as well as automatic announcements in German and English. A pilot installation in Hannover covers 52 stations and uses data from the DB Netz operations centre.
Other signalling, data and information system suppliers exhibiting in Berlin include Alcatel SEL, Carrier Sütrak, GE Harris Railway Electronics, Hanning & Kahl and Invensys Rail.
Traction equipment
Dutch company Anamet Europe BV has developed the Anaconda Shieldtite conduit to protect data cabling from electromagnetic interference and pulses. With a fully interlocked bronze core and PVC cover, Shieldtite is fully watertight and suitable for use in temperatures ranging from -40 to 105° C.
In addition to its aluminium and steel conductor rail, Brecknell, Willis & Co Ltd of Britain will be displaying the pantograph developed for Virgin Rail's Class 390 tilting train. This incorporates a Fast Auto Dropping Device to lower the pantograph rapidly in the event of carbon damage, and the OLIVE¨ system to detect contact wire irregularities. Pantograph contact elements will also be on show at the Schunk Bahntechnik stand.
Currently in use with Hannover light rail operator üstra, the Powerbridge energy storage system from Piller GmbH will be on display. Energy produced by traction motors during braking is stored using a flywheel and then used to accelerate from stops, maintaining voltage stability in the overhead power supply system and saving some DM35000 a year.
Transtechnik will be presenting its Combiverter range of standard power converters, as well as Flexverter models tailored to individual vehicle requirements. The prototype Coolcon converter will be on display, developed in conjunction with Liebherr Verkehrstechnik for direct installation in air-conditioning systems.
Other traction equipment suppliers include Elin-EBG of Austria and Voith Turbo GmbH of Germany.
Components
Components for passenger vehicles on display will include toilet systems from Semco Vakuumtecknik A/S, evacuation systems and access ramps for disabled passengers by Fine Products SA and lightweight interior components manufactured by Ederena Concept using sandwich and bonding techniques. Saira Alluminino SpA designs and supplies complete interiors; recent contracts include 108 metro cars being built by Alstom for Warszawa and 114 sleeping cars for Italian State Railways.
As well its aluminium range, Alusuisse Road & Rail AG will be presenting composite products from sister companies within the Alusuisse group, including Alusuisse Airex Composites, Alusuisse Sierre and Alusuisse Singen GmbH. As well as vehicle cabs, roofs and interiors, composites have been used in the manufacture of conductor rails.
Seating companies with displays include Grammer, Vogel Industrie and Franz Kiel of Germany, Compin of France, Clerprem of Italy, VBK Transport Interior, Georg Eknes and Ring Mekanikk of Norway, and Rica and Khimaira of Finland.
Spain's Albatros Corp will be showing its range of air-conditioning, static converter and interior components in a co-operative exhibit with Knorr Bremse and IFE. Interior trim specialists include Austria's Semperit Technische Produkte. Langen & Sondermann GmbH will be exhibiting its range of suspension components and maintenance equipment. Running gear components will be featured by Polish rolling stock builder Kolmex SA and brake equipment by SAB Wabco BSI.
Deutsche Porterbrook GmbH, a subsidiary of the Porterbrook Leasing of Great Britain, offers financial leases for locomotives and rolling stock. These can be for periods as short as three years, including maintenance if required.
Enotrac will be presenting its Vips¨ Carsis software for managing rolling stock maintenance. Physical details are entered using a template for all vehicles of the same class, and modules for preventative and corrective maintenance, warranty administration, and workshop and order management can be used independently or in combination.
Reflecting the growth in contract maintenance and refurbishment of rolling stock will be Netherlands Railways' rolling stock engineering business Nedtrain, German refurbishment specialist PFA Partner für Ausstattung GmbH. Workshop equipment will be featured by wheel lathe supplier Hegenscheidt-MFD, Pfaff-Silberblau and Windhoff AG.
Automatic fare collection specialist Mars Electronics International will be showing its latest euro-ready Sodeco BNA500 series banknote validators and CashFlow 690 change-giver units. Other fare collection suppliers at the show include Klüssendorf, Scheidt & Bachmann and Sadamel Ticketing Systems.
InnoTrans Conferences - p578
Further information
Messe Berlin GmbH
Messedam 22
D-14055 Berlin
Germany
Tel: +49 30 3038 2039
Fax: +49 30 3038 2030
E-mail: innotrans@messe-berlin.de
http://www.innotrans.de (German)
http://www.innotrans.com (English)
InnoTrans conference programmme
Hall 4.2 of the Berlin exhibition grounds will be hosting the infrastructure-focused BahnBau 2000 from September 12 to 15, organised by the German Association of Railway Engineers (VDEI) and including a supporting conference programme.
On September 11-13 InnoTrans will be the venue for the East European and Asian Rail Summit, with a symposium attended by transport ministers and chief executives from member railways of the Warszawa-based Organisation for the Co-operation of Railways, whose opening session will be addressed by German Transport Minister Reinhard Klimmt and German Railway Board Chairman Hartmut Mehdorn.
On September 13 and 14, the Deutsche Verkehrsforum and The Association of German Transport Undertakings (VDV) will be holding a congress entitled Public Transport in the 21st Century - Mobility & Safety for the Customer'. Case studies from major cities are to be presented to the conference, which will also consider personal security, staffing and CCTV.
Throughout InnoTrans, the East-West Information Centre of the German Economic Co-operation Office will be open in Hall 6.2b to foster business contacts. On September 14, a conference is taking place on sales and co-operation opportunities in Kazakstan. Other conferences and workshops taking place during the exhibition are summarised below; further contact details can be found in German at www.innotrans.de or English at www.innotrans.com
Other conferences
September 13
2nd Forum on Mass Transit: 'Mass Transit in the New Millennium - Challenges & Prospects'.
PBV Planningsbüro für Verkehr/ETC Transport Consultants GmbH.
PBV-Berlin@t-online.de
'Railway Information Technology'.
Eurailpress.
piepenschneider@dvz.de
'European Transport Research under the EU's Fifth Framework Programme'.
ERIC Berlin in der BAO Berlin IRC North Germany.
bhd@berlin.ihk.de
September 14
3rd Design Conference: 'Act Global - Design Local'.
Internationales Design Zentrum Berlin eV.
idz@idz.de'Electronic Ticketing in Public Transport & Railways'.
Eurailpress.
'Stations & Stops - Challenges & Opportunities for Transport & Urban Development'.
DE-Consult.
bernstein@de-consult.de
September 15
Founding Session of DVWG Young Forum: 'Mobility in the 21st Century - Challenges for the Next Generation in Transport Management'.
German Transport Sciences Society (DVWG).
dvwghgs@t-online.de
'Railway Standards Today'.
German Railway Standards Committee (FSF).
fsf-din@t-online.de
CAPTION: A wide range of modern rolling stock will be on show at the Berlin trade fair's spacious external display area
CAPTION: The Siemens Desiro modular multiple-unit concept was launched at InnoTrans 1998; this year will see the first production EMU on display
CAPTION: Kirow says that its KRC1200 handed over to Leonard Weiss GmbH on July 6 is the world's largest track construction slewing crane. Able to lift bridge sections 40 m long weighing 38 tonnes, it has a divided superstructure on two roller bearing rings,enabling the boom and hook to rotate 30í to either side of the track while the rear section with counterweight remains in line instead of fouling adjacent tracks
CAPTION: On test at Hannover is a passenger information display from VST München which calculates automatically what connections are possible, triggering visual and audible announcements
CAPTION: The Piller Powerbridge for DC traction systems uses a flywheel to store braking energy and maintain voltage stability
CAPTION: InnoTrans 2000 has attracted over 800 exhibitors from across the world, filling nine halls of the huge Berlin trade fair complex