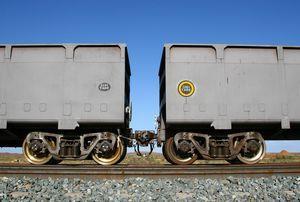 IN HIS KEYNOTE speech to the 7th International Heavy Haul Conference in Brisbane on June 11, former Spoornet Chief Executive Braam le Roux, currently Representative for Southern Africa at the International Union of Railways, drew attention to the constant threat facing railways from their competitors. Telling 580 delegates from 27 countries that 'highway developments will not stagnate', he warned that 'we have to outdo them'.
Attaining this goal required greater understanding of the fundamentals of railway engineering, and le Roux called for 'the stimulation of brilliance', which he felt was 'our biggest challenge ... only by understanding can we hope to make great invention or improvement.' Stressing the seriousness of the competitive threat, he warned that 'engineers have a great responsibility to push for understanding rather than depend on mere knowledge - if they don't, our industry will die.'
Seizing on the 'pushing the boundaries' theme chosen for the contiguous AusRAIL 2001 conference, Le Roux suggested that 60 tonnes may prove to be the ultimate axleload limit 'if we can fix a few other things'. He pointed out that railways 'were the only application where steel is used beyond the limits of elasticity', and referred delegates back to the early days of the IHHA when technical experts tended to the view that 'we know, we have done it for a hundred years, don't push me on the unproven'. This attitude was questioned by a few mining companies, who 'engaged the fringe among us and started to challenge technical limits to improve the economics'.
Just where this has led is exemplified by Australian operator BHP Iron Ore, where operating costs have been halved over the last five years. Today's research suggests that the technical limits of heavy haul operation have still to be reached, and on June 20 BHP-IO planned to run an experimental train of 672 ore cars hauled by eight locomotives controlled by a single driver using Locotrol equipment. Asked what the objective was of running a train grossing 100000 tonnes, Mike Darby, Vice President, Railroad, said 'you have to keep trying different things - if you don't, you don't know what you can do.'
There are plenty of other threats to the rail business. Mike Roney of CP Rail, IHHA Board Member for Canada, drew attention to the pressure for short-term performance as a barrier to technology. In this context research is already a casualty, and le Roux is rightly concerned that many tasks are unfinished, such as the specification of what should be the ideal heavy haul track structure. 'Please do it quickly', he pleaded.
Le Roux concluded his message with a request that railways 'should integrate global brilliance ... I believe the IHHA should soon join forces with the World Congress on Railway Research and the UIC Joint Research projects ... we should join forces before each dies a separate death because of lack of numbers.'
Encouragingly, there is some recognition in Europe of the need to work together, and on May 14 EU Commissioner for Research Philippe Busquin was presented with the 'Joint Strategy for European Rail Research - 2020' by the UIC, UITP, CER and Unife. The Strategy calls for the creation of a Single European Railway System, whose objectives for 2020 would be to double passenger-km, triple tonne-km, triple productivity, 'eliminate avoidable fatal accidents', improve energy efficiency by 50%, reduce pollutants by 50% and 'increase network capacity to accommodate traffic projections'.
Bear in mind that these objectives have been set in a continent where strong pressure exists to separate infrastructure from operations. In this context, the wheel-rail interface remains as critical as ever, and good advice on managing it is available in a publication launched in Brisbane. Guidelines to Best Practices for Heavy Haul Railway Operations: Wheel and Rail Interface Issues* is a collection of essays by eminent heavy haul engineers. The fundamentals apply to conventional as well as heavy haul railways, and the book represents a valuable contribution to better understanding of the railway engineer's profession.
* Published at US$80 plus postage, this manual is obtainable from the IHHA, 2808 Forest Hills Court, Virginia Beach, Virginia 23454, USA; ihha@erols.com