POLAND: A motley collection of rolling stock was inherited by PKP Intercity, which had to launch an urgent programme of modernisation to meet the expectations of today's market, reports Ryszard Piech.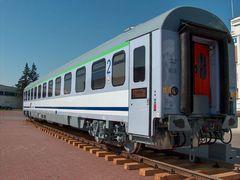 As soon as it was launched, PKP Intercity began a programme of external repainting and interior refurbishment to develop a consistent corporate brand across its fleet. But cosmetic changes such as standardised fabrics and branded interior fittings could not change the underlying condition of the ageing vehicles.
There was no money for investment, and the operator's problems were magnified by a drop in orders for new vehicles; from its launch in 2001 until 2004, PKP Intercity bought just nine first and 20 second class coaches, and 10 sleeping cars. There were no further orders until 2008. The only option was to commission a thorough refurbishment of the existing rolling stock.
PESA converted a type Z2 first class car into a 306A sleeper, with the installation of a retention toilet, bogies upgraded for 200 km/h running and a completely rebuilt interior equipped to standards suitable for EuroNight international services. The same company also produced Z1A-WR restaurant cars for use on the Jan Kipura service to Brussels (subsequently re-routed to Amsterdam). These were extensive upgrades of 160 km/h vehicles which PKP had bought from VEB in Bautzen just days before the Berlin Wall fell in 1989. PESA upgraded the running gear for 200 km/h, installed air-conditioning and retention toilets, and replaced interior fittings while retaining the existing layout.
Tabor Szynowy Opole undertook the rebuilding of older Z2 first class cars to produce the 507A design. This was the first total rebuild the company had undertaken, and saw the complete replacement of the interior to include a conference room and bar.
The success of this prompted PKP Intercity to place a second order, for the conversion of a 305A prototype sleeper/couchette car built by FPS into a type 508A conference car. Work focused on interior changes, as the vehicle was already suitable for 200 km/h and had air-conditioning and retention toilets. It was fitted with a large conference room, a four-seat business compartment and staff compartments. Other facilities include wi-fi, DVD players and data links to allow conferencing to the adjacent 507A car. The vehicle can also be fitted with SUW2000 gauge-changing bogies for working onto the 1 520 mm gauge networks east of Poland.
Night into day
PKP's inter-city service pattern was previously based on overnight trains linking Poland's main cities. When this was dropped in favour of more day trains, PKP Intercity was left with a surfeit of type 110A couchette cars which had been built by FPS in 1976-77.
Rather than being sent to the scrap yard, 30 vehicles were completely rebuilt by PESA into second class open cars with new seats and interior fittings. The first 10 type 111Arow cars were returned to service from 2005 with conventional heating, but the remaining 20 were fitted with air-conditioning. Only one retention toilet is provided, the space for the second being converted for cycle storage. The manual doors remain, along with bogies with spring suspensions and tread rather than disc brakes. A further 30 conversions were subsequently undertaken.
There was still an urgent need for modern couchette cars for the remaining overnight services, in particular for the Jan Kiepura. This is being met by modernising 12 type 134Ab couchette cars which had been produced by FPS in 1992. Although relatively modern, the cars lacked air-conditioning and suffered from the use of cheap materials. The first modernised car was rolled out by Newag in 2007 as a showcase of what could be produced from PKP's existing vehicles. The complete rebuild to contemporary standards includes new toilets and air-conditioning, with extensive use of modern materials including plastic wall panels and new fabrics.
Sleeping cars
Much of the sleeper fleet consists of 160 km/h WL-B and WL-G cars built in 1977-86 by VEB in what was then East Germany. Though relatively young, they epitomised what was wrong with rolling stock from the communist era; slam doors, old bogies and a generally poor travelling environment. The newest of the cars were selected for modernisation, receiving power doors, retention toilets and air-conditioning, while the interior rebuilds retained only the beds.
The most drastic change was to the relatively new but rather worn Z2 cars from Bautzen and the 136A/139A cars from FPS. These had modern bogies, air suspension and power doors, but the interiors were old-fashioned and lacked air-conditioning and retention toilets.
A complete modernisation of the Z2 cars was undertaken by Newag, while FPS was responsible for rebuilding the 136A and Tabor Szynowy Opole the 139A cars. Changes included new windows and interior panelling, and replacement seats with 230 V power sockets.
Dining cars
One of the biggest challenges for PKP is the standard of its bar and restaurant cars. Only 16 of the 45 in use are of the relatively modern 'Bautzen' type produced in East Germany in 1989. The rest are 113A bar cars dating from 1974-76 which have gone for 30 years without major work, and badly need replacing.
Four companies have been awarded contracts to each convert one Z2 seating car as demonstrator catering vehicles, with four second class compartments, a bar and kitchen. The first of these type 155A cars was presented by PESA in 2007, and two more have now been completed by ZNTK Minsk Mazowiecki and Newag. There is an obvious need for new catering cars, but the justification for the cost of ordering four different prototypes remains unclear.
Acquisitions planned
After a number of difficult years, it would appear that the future is looking brighter for PKP Intercity. Traffic is up, vehicle refurbishment has produced good results and new rolling stock will help to bring rail travel up to international standards. But modernisation of existing vehicles can only go so far, and PKP Intercity is now looking further ahead.
Earlier this year FPS won a 100m zloty order to build six first class cars, three open saloons and three with compartments, as well as 11 second class coaches including eight with compartments. Tenders had also been called for three restaurant cars and 10 sleeping cars, but the bids came in 30% more expensive than expected, and no orders were placed; the scope of the order may be reduced.
At the end of June Siemens was named as sole bidder for a contract to supply PKP Intercity with multi-system electric locomotives capable of 200 km/h on cross-border services; the 10 Eurosprinter ES64U4 locos are due to be delivered within two years. Later this year PKP Intercity will call tenders for 20 tilting EMUs capable of speeds up to 200 km/h, for use on routes including Warszawa - Gdansk.
About PKP Intercity
Established on September 1 2001 as part of the restructuring of the Polish state railway into businesses under holding company PKP SA, PKP Intercity is responsible for all Ex, IC, EC and EN trains, some other overnight services and all couchette and sleeping cars.
Budget services branded TLK (Cheap Railway Lines) were introduced in 2005 in response to the growth of low-cost airlines.
PKP Intercity inherited large fleet of coaches of various ages and conditions. most of which lacked air-conditioning, power doors and retention toilets.