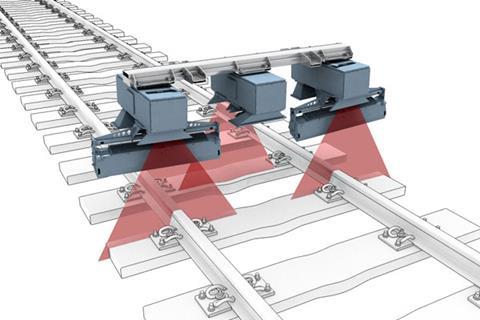 JAPAN: West Japan Railway Company has selected MerMec to supply machine-vision technology for its track inspection fleet, the railway's General Manager Eiji Tsubone announced at a meeting of the EU-Japan Industrial Dialogue on Railways & Urban Transport Suppliers in Brussels on May 21.
Following 'a long tendering and evaluation period', the Italian manufacturer has been chosen to supply three V-Cube track inspection systems and three fishplate inspection systems which will be installed on JR West's fleet of track inspection vehicles. The first pair of systems is to be supplied in the first half of 2016, with the other four to follow in early 2017.
The two systems together are able to identify and evaluate many different types of defects, including cracked sleepers, deteriorating fasteners, missing bolts, corrosion and damaged rail welds. They will be used across the entire JR West network amounting to 5 013 route-km, including 4 369 km of 1 067 mm gauge routes and 644 km of 1 435 mm gauge on the Sanyo Shinkansen connecting Osaka and Hakata.
Describing the award as 'a strategic cornerstone' in its development plan for the Far East market, MerMec said it had become 'the world's first foreign supplier of machine-vision inspection systems to have successfully passed a rigorous and pro-longed selection process run by JR West'. This include a requirement to demonstrate 'high performance, reliability and flexibility' of the technology. The company is currently in discussion with a number of other Japanese railways, and hopes to announce further orders shortly.
MerMec has just shipped a new measuring vehicle to EFE in Chile, and says that three more diagnostic vehicles are under construction at its Monopoli plant for PKP in Poland, BHP Billiton in Australia and Singapore's Land Transport Authority. In 2014, the company reported strong growth in its international sales, which represented more than 70% of the group's total annual revenue.