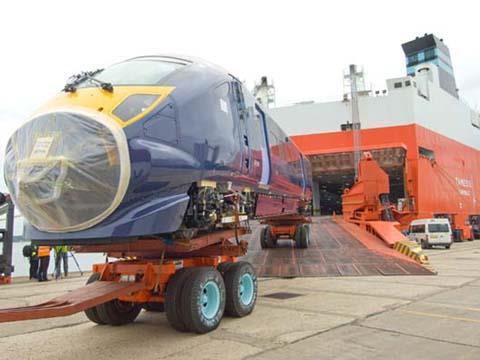 UK: The ship carrying the last of 29 Hitachi Class 395 electric multiple-units for High Speed 1 domestic services arrived in the Port of Southampton on August 16.
The trainset was delivered from Japan to the UK onboard Wallenius Wilhelmsen Logistics' roll-on, roll-off ship MV Tamesis, travelling 20 600 km from Kobe to Southampton via Panama. After unloading on August 17 DB Schenker will haul the unit to Hitachi's Ashford maintenance depot for commissioning.
The first of the dual-voltage Class 395 EMUs had arrived in Southampton on August 23 2007. Shipping the fleet from Japan was 'a seamless factory-to-dealer operation requiring careful strategic planning and execution', according Captain Mark Bookham, Operations Director at Wallenius Wilhelmsen Logistics.
'We developed special rubber tyre bogies to carry the carriages on board our ships. In Southampton the carriages were rolled off the ship and then lifted using two 100 tonne mobile cranes in tandem directly onto the rail tracks running along the Ocean Terminal and reformed as a train.'
Alistair Dormer, General Manager at Hitachi Rail Europe, said delivering the trains 'has been a great opportunity for Hitachi Rail to demonstrate its efficient manufacturing and delivery to the European market'.
Southeastern is currently operating a limited London - Ashford weekday preview service using Class 395s. This will be extended to serve Ramsgate and Dover from September 7, before the full service starts on December 13.
'Passengers from Dover will be able to reach London in just over an hour where it now takes nearly two hours, making it a town where you can now easily commute from', said Southeastern Managing Director Charles Horton.