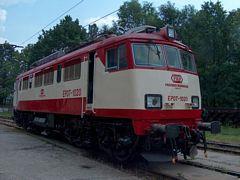 POLAND: Electric locomotive repair works ZNLE has recently completed a thorough modernisation of an EU07 electric locomotive. There are more than 450 locos of this class in service in Poland, and the contractors hope to win significant volumes of work if they can offer PKP an affordable refurbishment programme.
The locomotives were built by Pafawag in Wroclaw and H Cegielski in Poznan between 1963 and 1994. The design was licensed from English Electric, which supplied an initial 20 EU06 locomotives in 1962. ZNLE has changed the gear ratio to overcome a long-standing problem with overheating traction motors, and has used a patented system for adjusting brush shunts, to improve reliability and extend maintenance intervals.
The cab has been fitted with modern cooling and heating systems and better soundproofing, while the driving desk has been redesigned.
The previous pantograph has been replaced with a Stemmann-Technik design. Halogen headlights and LED marker lights have been installed at each end of the locomotive, along with LED passenger information displays.
The first locomotive to be modernised is allocated to regional passenger business PKP PR, but it is expected to be transferred to PKP Intercity shortly.
Following the rebuild the EU07 locomotive has been reclassified as EP07, reflecting the change from universal to passenger use.