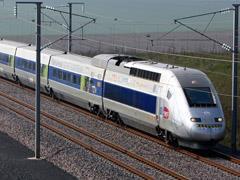 FRANCE: Legislation being drawn up following the national environmental summit at the end of 2007 (RG 12.07 p743) confirms that another 2 000 km of high speed lines will be launched by 2020.
New lines listed in the first of three draft laws unveiled on April 30 by Jean-Louis Borloo, Minister of State for Ecology, Energy, Sustainable Development & Land Use Planning, include: Tours - Bordeaux; Montpellier - Perpignan; the Nîmes and Montpellier bypass; Bretagne - Pays de la Loire; the second section of LGV Est from Baudrecourt to Strasbourg; the eastern, southern and western branches of LGV Rhin-Rhône; Provence - Alpes - Côte d'Azur; Bordeaux - Toulouse; Bordeaux - Hendaye; and a line round the south of Paris linking LGV Atlantique with LGV Interconnexion and LGV Paris - Sud-Est.
A further package of 2 500 km of new lines is to be prepared for implementation in the longer term; this includes the Lyon - Torino project with its base tunnel, a line from Poitiers to Limoges, and a Paris - Calais via Amiens route.
The draft law also calls for three autoroutes ferroviaires. This would see extension to the Lyon area of the existing transalpine shuttle service on the 175 km Fréjus corridor between Aiton-Bourganeuf in France and Orbassano in Italy, expansion of the Perpignan - Luxembourg Lorry Rail service launched in March 2007 and development of a third route linking the Basque region with Paris and northern France.
Projects in Ile de France include upgrading of Line 13 of the Paris metro, extension of Paris RER Line E westwards towards Normandie and construction of an orbital automated metro round the capital.
Provincial cities at present have a total of 329 km of tram and segregated bus routes. The draft law envisages that this will increase to 1 800 km at a cost of €18bn, and the government proposes to contribute €2·5bn towards an initial funding tranche of €12bn by 2020.
Finally, the legislation will establish a Rail Regulator to deal with competition between different operators.