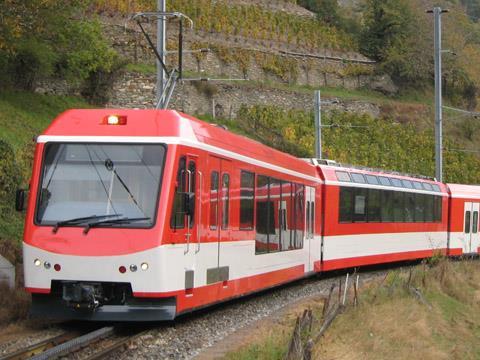 SWITZERLAND: Matterhorn Gotthard Bahn has awarded Stadler Rail a SFr106m contract to supply further rolling stock to increase capacity and improve accessibility on its metre-gauge network.
The contract signed on December 23 includes one four-car and six three-car Komet 11 kV 16·7 Hz electric multiple-units. Designed by Stadler in conjunction with MGB, the Komet rack EMU features low floors and panoramic windows. Four additional cars will be supplied to lengthen MGB's existing Komet units, and 11 low-floor intermediate cars will be provided in order to make older trainsets compliant with current accessibility legislation.
The vehicles will be built at Stadler's Bussnang plant for delivery from the end of 2013. As well as ensuring compliance with accessibility legislation, MGB needs additional rolling stock to meet growing demand; a clockface service between Fiesch and the car-free resort town of Zermatt is planned for 2014.
The new rolling stock is to be funded by a government-backed SFr100m bond issue which MGB expects to place in the first quarter of 2012.