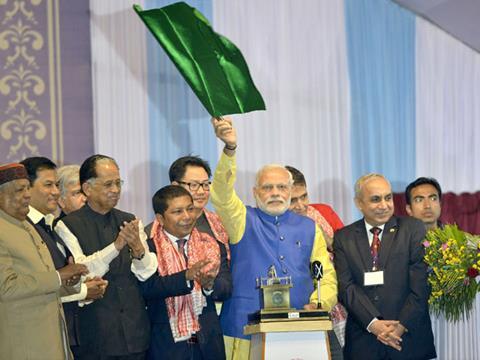 INDIA: Prime Minister Narendra Modi was joined by Minister of Railways Shri Suresh Prabhu and other dignitaries at a ceremony in the northeastern city of Guwahati on November 29, marking the opening of the railway to Mendipathar.
Dispatching the inaugural train remotely from Railway Stadium in Guwahati, Modi outlined the strategic importance of railway investment in the landlocked northeastern states of Assam, Meghalaya and Mizoram. Proximity to the borders with Bangladesh, Myanmar and Bhutan offers potential for greater international trade, but the region that has long suffered from limited road and rail access, he said.
The 131 km railway from Guwahati to Mendipathar via Dudhnoi is the first to open in Meghalaya since it was granted statehood in 1972. The route had been planned since the early 1990s, but progress had been repeatedly blocked by local opposition. IR expects to operate an initial service of one train per day in each direction.
Arguing that railways were 'an engine of economic growth', Modi also laid a ceremonial foundation stone to mark the start of a project to extend the broad gauge Badapur – Bhairabi line by approximately 100 km southwards to Sairang in Mizoram state. Modi added that the latest railway budget had allocated Rs280bn to the development of new lines in the northeast.