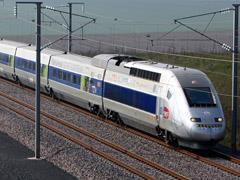 FRANCE: SNCF has put into service an automated shunting robot to manoeuvre trainsets on and off the underfloor wheel lathe at its TGV maintenance depot in Lyon, which opened earlier this year. A second unit has also been installed in one of its Paris TGV depots. Developed by Windhoff, the self-powered machines can move trains with a gross weight of up to 500 tonnes.
Unlike earlier designs, the robot is self-propelled using a rack guideway between the rails, rather than a static motor and haulage rope. Its compact profile allows it to run back and forth underneath a train as required. The robot can be driven from a stationary panel or remotely using a radio control pack.
To move a trainset, the robot is positioned under a selected wheelset, and four hydraulic arms are extended to place wedges fore and aft of each wheel. The wheelset is then raised off the railhead, but without lifting the flanges clear of the rail top. The robot calculates the wheel diameter automatically to establish the degree of lift required. This transfers the weight of the vehicle onto the robot, giving sufficient tractive force to move the whole train.
The robot's braking system allows a trainset to be moved and held accurately in position without using the train's brakes. This leaves the wheelset to be turned on the lathe free to rotate.
Windhoff has also developed a version of the robot for installing on existing track. This has an extra-low profile, just 200 mm deep, and runs on 16 individually-powered wheels driven by servo motors. The robot takes its traction current from a cable laid between the rails and fed at 50 m intervals.