IRAN: Railway development is continuing apace, the intention being to provide rail connections between all major cities as soon as possible. The ultimate objective is to double the size of the current 8 300 route-km network, reports David Brice.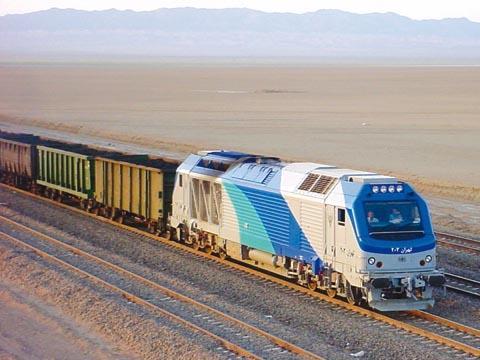 The Iranian government's decision to double the railway investment budget for 2008-09 has provided a much-needed boost to the pace of development.
Government policy is to encourage more travel within the country, and passenger tariffs are heavily subsidised. This is generating substantial demand for travel, which the railway is currently unable to meet. Demand is estimated at 90 million journeys a year, but the present timetable only offers capacity for 25 million journeys - less than 30% of demand. To tackle this RAI and its passenger subsidiary Raja Trains are striving to increase capacity by about 15% a year.
Network development is continuing apace, with the intention of connecting all major cities to the network as soon as possible. The ultimate objective is to double the length of the network, which currently stands at 8 300 route-km. The average distance between the main cities is around 600 km, making rail ideal for inter-city flows of both passenger and freight traffic.
But while the government is financing rapid development of the national railway, much of the expansion seems to be happening independently from the operation of the network. For example, the opening of new lines is increasing traffic on existing routes which have not been upgraded to cope. In particular, there is a shortage of locos and rolling stock, as investment in the fleet has not kept pace with the growth of the network.
RAI's overall expenditure budget needs to be rebalanced to increase spending on the existing lines, focusing on areas such as better management control and information systems, business planning and recruitment; there is also a need for more recruitment and staff training in areas such as management methods and operational safety. Unless addressed, these issues could inhibit the overall pace of railway development.
Double-tracking plans
RAI's network is predominantly single-track, which limits traffic flows on several of the busiest routes. The problem is exacerbated by inadequate signalling, which further limits the number of trains that can be handled.
At present only a few lines around Tehran and the trunk routes from the capital to Mashhad and Qom are double track, but a programme for further double-tracking is being drawn up.
The most important route requiring double track is the 613 km line between Bafgh and the Gulf port of Bandar Abbas. The port is developing rapidly, but it is located far away from the principal areas of industrial activity and Iran's main traffic centres.
When the line opened in 1995, the formation, including tunnels and bridges, had been built to take two tracks, and work to lay the second track is now urgently in hand.
Double tracking is also being examined for the east - west route between the iron ore mines east of Yazd and the Esfahan steelworks. A particular bottle­neck is the Maybod - Yazd section where the ore traffic uses the main line from Tehran to Bandar Abbas. Double-tracking is also being considered for the section from Yazd to Bafgh.
The Andimeshk - Dorud section of the Qom - Arak - Khorramshahr line has been heavily congested for some time, but geographical conditions rule out track doubling. Resignalling is in hand to act as a palliative, but long-term relief will only come when a direct line is built from Esfahan to Ahvaz, where the recent completion of a bypass has helped to cut congestion.
Electrification and resignalling
RAI intends to pursue electrification of its main routes where feasible, and an invitation for bids to electrify the busy Tehran - Mashhad route has recently been issued. In the meantime the line is to benefit from signalling improvements as it suffers from excessive headways.
The only existing electrified section is the 148 km from Jolfa to Tabriz, where Soviet-designed 25 kV 50 Hz equipment was installed in the early 1980s. The border at Jolfa has been closed for more than 10 years — political upheaval in the Caucasus resulting in destruction of the line beyond the Iranian border. However, the Iranian part of the route is to be upgraded and resignalled, with electrification extended for 50 km south from Tabriz as far as Azarshahr.
Other likely candidates for electrification are the main route south from Tehran to Bandar Abbas, and the east-west route between Yazd and Esfahan.
Modern signalling is urgently needed to raise capacity on many routes. This offers the twin advantages of reducing delays and alleviating safety concerns about the paper ticket system, which is still used on some lines. Among the first routes to benefit will be the heavily-congested line from Tehran to Bandar Eman Khomeyni.
Expanding the network
RAI is currently examining the feasibility of building a cut-off between Esfahan and Ahvaz, which would be an extension of the existing line from Zarrinshahr via Izeh. The alignment will have to pass through the Zagros mountains, but the difficulties are likely to be outweighed by the considerable benefit of providing a direct route between the steelworks at Esfahan and the Persian Gulf port at Bandar Emam Khomeyni.
At the moment this flow of heavy traffic is routed via Qom, and the new line would shorten the distance by two-thirds. The line could be designed with steeper gradients for electric traction, so reducing construction costs.
Following completion of the double-track direct line between Tehran and Qom, work is now underway to extend this to Esfahan. Given the importance of this route, it is intended that it will be electrified to permit the operation of 'high speed' passenger services.
The line will be further extended as a single-track route to Shiraz, although the final 56 km from Marvdasht will be double-track. This route also crosses the Zagros mountain range, which will place considerable demands on the engineering and construction teams. Maximum gradients have been set at 1·5% on the single-track section and 2% on the double-track alignment. Nine tunnels totalling 13·2 km will be needed, the longest being 2 km. Design speed for passenger trains is 160 km/h; freight will run at up to 100 km/h. Studies now in progress envisage that the line will eventually continue southwest to reach the Persian Gulf at Bushehr port.
A project for a branch from Shiraz to archaeological sites at Persepolis will improve tourist access to that area.
The northeastern cities of Orumiyeh, Hamedan and Ardabil are being connected to the rail network, and a direct route between Mianeh and Tabriz is nearing completion, avoiding the long detour through Maragheh; this will substantially shorten journey times to and from the capital.
RAI is also looking at building other routes that would increase capacity and eliminate circuitous journeys. One possible new route lies between Firouzkouk and Sari on the line to the Caspian Sea, replacing the present alignment that is handicapped by steep gradients. At the very least this line will be renovated.
International corridors
RAI sees itself as a natural hub for routes between Europe, the Gulf region, Central Asia and the Indian subcontinent. To this end the government has given high priority to development and expansion of international links, and several new lines are under construction.
Iran - Pakistan. Due to open in March or April 2009, the 319 km link between Faragh, east of Bam, and Zahedan connects the Iranian network with that of Pakistan, filling one of the last gaps in a through rail route from Europe to India. With completion of the Marmaray tunnel under the Bosporus and the proposed rail link around Lake Van in Turkey to replace the current train ferries, an all-rail route will be available with just one change of gauge at the Pakistan-Iranian border.
Iran is currently working on design studies for converting the 96 km section from Zahedan to the border at Mirjaveh from 1 676 mm to 1 435 mm or mixed gauge; in the meantime this section is being rehabilitated. However, the quality of the Pakistan Railways' line from Taftan to Quetta is poor, and Iran is negotiating with Pakistan with a view to the track being renovated.
Serious questions also remain over the security of operation on the PR route through Baluchistan, where the political situation is extremely fragile, but this link would enable rail to compete for freight flows currently moving by sea through the congested Suez Canal and the Red Sea. The recent activities of Somalian pirates may help to make rail a more attractive option.
Long-distance rail operations are unlikely to materialise for some time, but potential exists for the railways to secure many intermediate traffic flows. In addition, a line to be built from Bam on the Kerman - Zahedan line to the new port of Chabahar on the Gulf of Oman is likely to generate substantial traffic as part of a north-south corridor.
Iran - Turkmenistan. An east-west corridor offering the prospect of links between Europe and China via Iran is beginning to take shape, following the start of work in December 2007 on a 698 km international corridor through Turkmenistan to connect the Iranian and Kazakh railways (RG 1.08 p8). As well as creating a north-south route between Russia, the Central Asian states and the Persian Gulf region, the line is expected to encourage economic development in western Kazakhstan. The route is expected to be operational by the end of 2011.
The 90 km link with the RAI network will start from Gorgan and cross the border at Gudriolam to reach Gazandzhyk in Turkmenistan.
Iran - Afghanistan. Work is currently well in hand on extension of RAI's Torbat - Sangan iron ore line across the border to Herat in Afghanistan (RG 1.08 p55). Whilst perhaps not a major development in terms of generating traffic, this line certainly has major political implications. Largely financed by the Iranian government, it will constitute the first major standard-gauge line in Afghanistan.
A further extension to Sher Khan Bandar serving the northeast of Afghanistan is currently under investigation, and on November 23 2008 the Asian Development Bank announced that a protocol had been signed highlighting the importance of developing rail links from Herat through Mazar-i-Sharif as far as the current Uzbekistan Railways railhead at Hayratan, reached by a 1 520 mm gauge line from Termez. The Afghan government has requested technical and financial assistance from ADB for a pre-feasibility study.
A proposed extension of this route beyond Sher Khan Bandar along the Wakhan Corridor, albeit through challenging terrain, could complete a direct connection from Iran to the rapidly expanding Chinese rail network, creating a standard-gauge through route between Europe and China.
Iran - Azerbaijan. Construction of a new line between Qazvin and Rasht is currently underway, and this will eventually be extended to Astara on the border with Azerbaijan. This is intended to complete a north-south international corridor along the western side of the Caspian Sea, which is being promoted by a tripartite joint venture of the Iranian, Russian and Azerbaijan railways.
Driven mainly by RZD, the long-term plan is to create a north - south corridor between St Petersburg and the major container port at Bandar Abbas, eliminating the need for shipping traffic down the Caspian Sea. At its northern end this corridor would be fed by the train ferry from Sassnitz-Mukran through the Gulf of Finland, avoiding the Baltic States this route is expected to attract international flows between Germany and India.
Iran - Iraq. Two links to Iraq are in hand, one from Khorramshahr to the port of Basra, and the other from Arak via Kermanshah to the Iraqi border at Kosrayi. This will cater for substantial flows of pilgrimage traffic once the political situation has normalised.
All these international corridors are likely to present Iran with substantial flows of transit traffic — although at the moment the network already has more passenger and freight business than it can comfortably handle.
Motive power shortage
The bulk of RAI's motive power fleet consists of a large fleet of 3 000 hp GT26 locos built by EMD, but these are now more than 30 years old. The US trade embargo has prevented both new purchases and the supply of spares. While the fleet is undergoing a programme of re-engineering and updating, the purchase from Alstom in 2005 of 100 Prima locos rated at 4 000 hp has helped to alleviate the motive power shortage, although these locos have encountered difficulty in coping with Iran's very harsh operating conditions.
Further help is in sight thanks to an order for 150 locos from Siemens, although the delivery of these has apparently been delayed pending agreement on the financing terms.
Coaches from China
Passenger services are operated by Raja Trains, which is recording load factors averaging 95%, meaning that there is an urgent need for more coaches to meet demand.
Past practice has been to acquire second-hand compartment stock from Europe. The compartment configuration is well-suited to the travel habits of Iranian families, and many journeys are overnight.
RAI's policy has now changed in favour of purchasing new vehicles as they offer lower maintenance costs and can be diagrammed more intensively. China is supplying many of the new coaches, some of which are double-deck.
Capacity will also increase following the acquisition of more gas turbine powered trains from France, where they were no longer required.
Hyundai Rotem has won a contract for 30 railbuses to carry suburban traffic around the main cities, and the first of these are reportedly now being assembled in Tehran. New suburban stations are under construction around Tehran well in advance of the housing developments they are designed to serve.
Ownership of the entire freight rolling stock fleet has been handed over to the customers involved, either by purchase or through long-term loans. All train operations, however, remain in the hands of RAI, which thereby determines how efficiently the wagons are used. It will be interesting to see how the switch of ownership affects future investment in new wagons.
Moves have been made to attract the rapidly growing container business to rail, and there is already one privately-operated train running between Bandar Abbas and Aprin, a new multi-modal freight terminal near Tehran. A large order for container wagons has recently been placed and other intermodal terminals are planned.
Moves towards privatisation
Significant moves have been made towards privatisation, outsourcing and introduction of private capital into rail operations. Apart from the transfer of wagon ownership to customers, locomotive and vehicle maintenance, track repair and renewals are already outsourced.
Raja Trains owns all passenger rolling stock and is responsible for development of the passenger timetable, although supply of motive power and operations remain in the hands of RAI. Raja has sub-contracted marketing and on-board services of many trains to other companies which are free to charge enhanced fares for increased levels of comfort and service, revenue being shared on an agreed percentage basis.
So far there is no accountability between Raja and RAI for track access or supply of motive power.
David Brice has been engaged upon strategic transport studies in Iran while working for the Egis Group of France, which has provided the background for this article.
CAPTIONS: Raja Trains has a fleet of 20 DH 4-1 inter-city DMUs supplied by Siemens in 2003-04 (RG 7.03 p457).
US-built diesel locos form the backbone of RAI's motive power fleet, but this unit acting as station pilot at Tehran was supplied by Hitachi.
The RAI network passes through some extremely mountainous terrain. The Veresk viaduct on the Tehran - Sari line soars 100 m above the valley floor.
Part of a steady programme to update its traction, RAI took delivery of 100 Prima locomotives from Alstom in 2005.
Passenger and freight trains meet at Firouzkouk on the line to Sari and Gorgan.