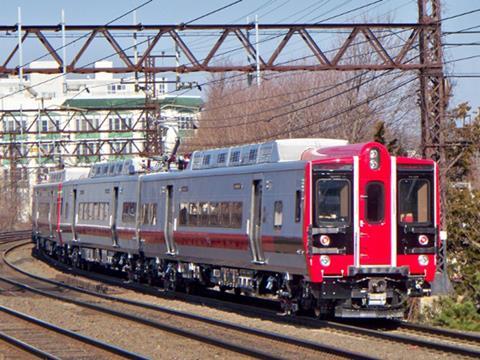 USA: New York MTA has placed a framework order worth $1·8bn with Kawasaki Rail Car for the supply of up to 676 multi-system commuter rail EMU cars. Designated M-9, the trains would be designed for use by MTA's two suburban operations, Metro-North which runs north into Connecticut from New York's Grand Central Terminal, and Long Island Rail Road.
Currently, MTA has funding to call off a firm order for 92 vehicles for LIRR; these would be delivered from 2017. MTA is set to request funding to purchase the remaining 584 vehicles when it submits its 2015-19 Capital Plan next year.
The M-9 would be an evolution of the recent M-7 and M-8 EMUs now in traffic on LIRR and Metro-North respectively. The M-9 would be capable of operation from 750 V DC third rail used on LIRR and at the southern end of the Metro-North network, plus the 11 kV 25 Hz and 25 kV 60 Hz overhead power supplies used on the Northeast Corridor.
MTA expects the M-9 to feature a range of design modifications based on feedback on recently-procured vehicles, including enhanced passenger information and air-conditioning equipment. MTA is also reported to be evaluating the installation of onboard wi-fi. The car body is expected to be approximately 50 mm wider to give a more generous middle seat in a 2+3 arrangement.
The first tranche of EMUs to replace LIRR's oldest M-3 trainsets, but subsequent orders are likely to be used to increase the fleet size ahead of the introduction of LIRR services to Grand Central under the East Side Access project, now scheduled to open in 2019.