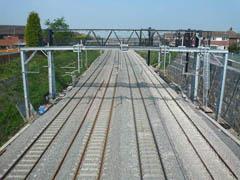 India's Northeast Frontier Railway will this month begin regular services to Agartala, the capital of Tripura. Work on the 119 km line from Kumarghat began in 1996, and the first train arrived in Agartala on June 29. Construction of a further 110 km to Sabroom is scheduled to start next year, and long-term plans include a cross-border link to Bangladesh.
Bulgaria's Ministry of Transport has commissioned Faber Maunsell to produce a national multi-modal transport masterplan. EU accession has made €2bn available for infrastructure investment in 2007-13, and the €2·5m study will inform the preparation of business cases for individual projects.
This month a Rail Development Group is due to present the government of New Zealand with recommendations for the future structure of the rail industry. Services are now operating under the KiwiRail brand following the transfer of rail and ferry operations from Toll New Zealand into government ownership on July 1 (RG 6.08 p344).
The 3·5 km metre-gauge link into Laos from Nong Khai in Thailand is expected to be inaugurated this month. State Railway of Thailand began running test trains on July 4; travel was free of charge, but passengers were unable to alight in Laos until customs facilities were complete.
The UK's Rail Safety & Standards Board has developed a methodology for assessing the impact of higher sea levels, increased wave heights and storm surges on coastal rail routes. A study into rebuilding the sea wall route at Dawlish is due to be completed shortly.
During July Saudi Arabia's council of ministers formally established a joint stock company to undertake the east-west Landbridge project. The consortium selected for the concession will take an 80% stake in the new company; the government will hold the remaining 20%.
On June 2 the European Commission approved the Hungarian government's plans to provide HF3bn of state aid in 2008-11 to meet 30% of the cost of a rolling motorway service to carry lorries and drivers from Szeged to the Austrian town of Wels.
From December 12 2010 Hessische Landesbahn will replace DB Regio as operator of Frankfurt – Gießen – Siegen and Gießen – Marburg regional services provided under contract to the Rhein-Main and Westfalen-Lippe transport authorities in Germany.
China Railway Corp's track technology research centre in Xianyang was officially opened on June 18.
The government of Romania has approved public service contracts covering the period 2008-11 with train operators CFR Calatori, Regiotrans and Servtrans Invest.