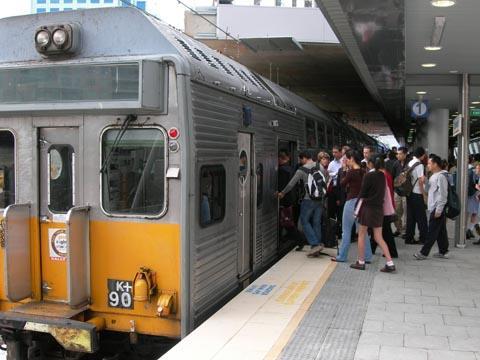 An integrated transport authority is to be formed to co-ordinate policy in New South Wales, leaving RailCorp, Sydney Buses and other transport agencies to focus on service delivery.
On May 14 passenger services began stopping at the reopened station at Sösdala in southern Sweden after a gap of 32 years. Over the next four years 14 more stations are expected to open in Blekinge, Skåne and Småland.
In its 2011 budget the Australian state of Victoria has allocated funding for seven new trainsets, and A$37m for studies into planned lines to Doncaster, Rowville and the Avalon and Tullamarine airports, as well as reopening of the Geelong – Ballarat – Bendigo route.
At a cost of R$9m, Ferrovia Centro-Atlântica of Brazil is building a 34 km balloon loop at the Pirapora grain terminal in the state of Minas Gerais. This will reduce the need for remarshalling, with empty wagons returned within 6 h rather than 30 h at present.
On behalf of India's Ministry of Railways, Ircon is seeking proposals for pre-feasibility studies into 200 km/h running on the 644 km Hyderabad – Chennai route. Studies are planned for Delhi – Lucknow – Patna (991 km), Delhi – Amritsar (450 km), Pune – Mumbai – Ahmedabad (650 km), Chennai – Bangalore – Ernakulam (649 km) and Howrah – Haldia (135 km).
Czech infrastructure manager SZDC has signed a framework network agreement with Rapid Express, a private company which plans to launch inter-city services on the Praha – Ostrava route in December 2012 using five Stadler Flirt EMUs.
Oregon International Port of Coos Bay has selected ARG Trans to operate the Coos Bay Rail Link. Services on the 215 km line in the US state of Oregon will resume this month after a $24m rehabilitation programme.
Slovakia's ZSR has called tenders for refurbishing Prievidza, Trencín and Zilina stations, the first to be upgraded under a programme to provide a better waiting environment and develop commercial opportunities.
In May Bulgaria's Prime Minister Boyko Borisov launched an EU-backed 400m leva project to increase speeds on the Plovdiv – Burgas route from 100 to 160 km/h by 2014.
The German Land of Baden-Württemberg and Swiss canton of Schaffhausen have given the go-ahead for a €3·3m study into electrifying the Basel – Schaffhausen line. Subject to a local referendum, wiring could be completed in 2016 at a cost of €110m.
Japan International Co-operation Agency is to undertake feasibility studies for the use of Japanese technology to build a 1560 km high speed line between Hanoi and Ho Chi Minh City.