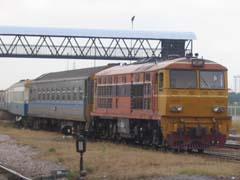 THAILAND: The Thai Office of Transport & Traffic Policy & Planning submitted proposals for a 336 km railway from Ban Phai to Nakhon Phanom to the cabinet at a meeting in Udon Thani on February 21.
The branch from the existing Nakhon Ratchasima – Nong Khai metre-gauge line would run northeast via Mueang Roi Et to the border with Laos, from where it could ultimately be extended eastwards to meet the planned Vietnamese railhead at Mu Gia.
With a projected construction cost of 41bn baht, the line is scheduled to open in 2017. Traffic is estimated at 6·3 million tonnes of freight and 7·4 million passenger-journeys annually by 2037. OTTPP calculates that the line could deliver wider economic and social benefits worth 2·8bn baht per year.
The project is part of a wider infrastructure package aimed at stimulating economic growth in northern Thailand, which has been badly affected by floods in recent months. As well as developing potential links within the framework of the long-term Trans-Asian Railway plan, OTTPP is also prioritising rail connections to the country's main import terminal at Laem Chabang on the Gulf of Thailand.