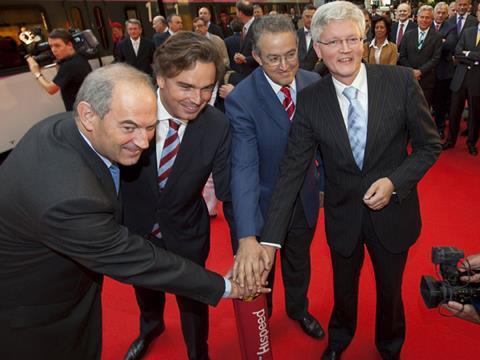 NETHERLANDS: NS Hispeed launched Amsterdam - Rotterdam passenger services over HSL-Zuid on September 7, following a formal inauguration by the Dutch Transport Minister Camiel Eurlings and the mayors of Amsterdam, Haarlemmermeer and Rotterdam the previous day.
The interim service comprises 17 weekday return trips, with Bombardier Traxx electric locomotives and rakes of seven ICR coaches taking 43 min to cover the 72 km at a maximum speed of 160 km/h. Trains are initially running from Amsterdam Centraal, pending a switch to Amsterdam Zuid once its development has progressed further. This will cut running on conventional lines from 27 km to 19 km.
A supplement is payable for the Hispeed trains, though a limited quota of half-price tickets are available for internet purchase and home printing.
Thalys services will be diverted onto HSL-Zuid from December 13, running at up to 160 km/h between Schiphol and Rotterdam and at 300 km/h from south of Rotterdam to Antwerpen; 300 km/h running on the northern section is planned by June 2010, after an upgrade from ETCS Level 1 to Level 2.
The Hispeed service will be extended to serve Breda and Brussels from mid-June 2010, and AnsaldoBreda's V250 Fyra trains are now expected to enter service in autumn 2010.
NS Hispeed is the operating name of High Speed Alliance, owned 90% by NS and 10% by KLM Royal Dutch Airlines. It expects to achieve a 35% share of the Amsterdam - Rotterdam market in 2011.